LG sources tip the existence of a 5.5" Optimus G Pro, slated for Q1 launch
24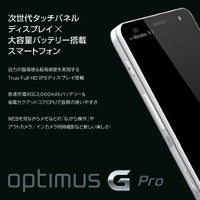 Hey ho, LG confirmed the
Optimus G Pro
! Well, not really, but sources from the company have apparently tipped at least two Korean publications that LG is hammering out a largish 5.5" Optimus G Pro handset, codenamed
Optimus GK
before, with a Full HD display, which for any self-respecting flagship this spring will be a must-have feature, and it is about to be announced very soon.
SEOUL, Jan. 21 (Yonhap) -- South Korean handset maker LG Electronics Inc. on Monday confirmed plans to release the "Optimus G Pro," a follow-up to its flagship smartphone "Optimus G."

The Optimus G Pro, which is likely to be launched locally in the first quarter, is set to pack a 5.5-inch full high-definition (HD) display and run on a quad-core application processor, the company said.

LG said it plans to ramp up the user experience and hardware features of the Optimus G on the new device.