LG announces QuickWindow case for the LG G2, comes in seven colors
25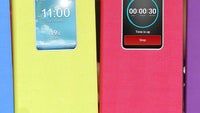 Even though the
LG G2
smartphone has yet to be unveiled, accessories for it are already official. The company's QuickWindow case for the LG G2 is a premium accessory meant to protect the device from both sides without limiting its functionality. Featuring an opening on its flip cover, it allows the user to view information displayed on the handset's screen without having to lift the cover itself. This includes time and weather info, music currently playing, incoming calls and messages, and more. The so-called QuickWindow UX interface which provides all this information can be toggled with a swipe of a finger.
The QuickWindow case for the LG G2 will be launched alongside the smartphone itself. Black, white, pink, purple, blue, mint, and yellow are all on the list of colors it will be available in. Pricing is to be announced at a later time.
LG EXPANDS ACCESSORY OFFERINGS WITH PREMIUM SMARTPHONE CASE
Convenient QuickWindow Case for LG G2 Available in Seven Colors
SEOUL, July 30, 2013 — LG Electronics (LG) will be introducing a line of premium cases for its upcoming flagship device, LG G2, to be available at the same time as the smartphone. The aesthetically beautiful case, QuickWindow, is the newest addition to LG's growing premium smartphone accessory lineup, which includes cases, headsets and portable chargers.
An opening or "window" on the cover of QuickWindow allows users to glance at various information displays without having to open the cover flap. With only a light swipe of a finger, the QuickWindow UX will appear in the window which users can view while on the go. Information that can be viewed through the QuickWindow cover include a clock, weather report, alarm, music player, incoming phone call details and incoming text messages.
"LG's newest premium accessory delivers practical and stylish options while protecting the smartphone, which for many consumers is a significant investment," said Dr. Jong-seok Park, president and CEO of LG Electronics Mobile Communications Company. "Our smartphone designers have in mind the type of case they'd like to see on their designs. So it made a lot of sense for LG designers to share with our customers their vision of the perfect accessory."
The QuickWindow case for the LG G2 will be available in seven different colors, including black, white, pink, purple, blue, mint and yellow. The cases will be available simultaneously with the launch of the LG G2.