LG Versa game module now available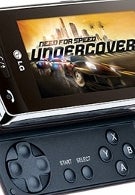 QWERTY keyboard has been the only snap-on module available for the LG Versa this far. While great for texting, emailing or simply punching in URL's, there aren't many jaw-dropping things you can use it for. This is about to change though, Verizon has just announced that a game pad module for the Versa is now available to customers. The accessory features an 8-way D pad and 4 dedicated, Nintendo controller style buttons. Unlike QWERTY keyboards, the game module slides into place and costs just $29.99 with no games in the package. Other two modules for the Versa are expected to hit the shelves soon as well - a Wi-Fi connectivity module that would appeal to web surfing buffs and built-in speakers device meant for the audiophiles.
Check our review of the Versa Game Controller!
source:
Verizon