LG Optimus L7 lands in store shelves today bringing more style to Android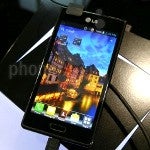 The LG Optimus L7, the high-end model in LG's L series, is finally making its way to store shelves and
starting today is available across "major" European and Asian markets
. LG announced that the Optimus L7 is ready to ship and it's the second L series device to arrive after the low-end L3.
With the Optimus L7 you have the same stylish design language typical for the LG's L family, but with much better inner stuffings. The handset features Android 4.0 Ice Cream Sandwich, displayed on a 4.3-inch WVGA screen. There's a 1GHz processor and 512MB of RAM responsible for the fluid performance. On the back, a 5-megapixel camera can brag about snapping pictures extremely quickly - 0.6 seconds with auto-focus. All of that fits into a slim, 0.34 inches (8.7mm) thick body.
We first saw the handset at MWC this year, and while it took longer to launch than the L3, it could hit the right balance between price, style and functionality. How do you like it?