LG Optimus Black pricing laid out, coming for free on T-Mobile UK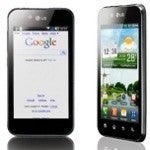 The LG Optimus Black might be one ofthe thinnest and brightest handsets in the world, but what we like most aboutit is the price tag of zero pounds on T-Mobile UK with aqualifying two-year agreement starting from £25 ($40) a month. The Optimus Black will hit shelves this monthin the UK, which will be one of the first markets offering thephone. Without any carrier ties, the price for the handset jumps toslightly more than $600 judging from the retail price forSingapore where the phone was launched a couple of days ago.
In comparison, LG's dual-core flagship,the LG Optimus 2X (check out our in-depth review here), was priced at nearly $700 off contract in Singapore. The$100 premium buys you dual processing power, an 8-megapixel cameraand HDMI output, but the phone itself is thicker. Which one would youpick?
source: UnwiredView