LG Optimus 4X HD release date set for June in Europe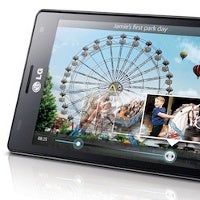 The
LG Optimus 4X HD
seemed to be almost forgotten in the midst of a handful of launches and the wait for the Samsung Galaxy S III, but it's coming to retail shelves after all. The Optimus 4X HD
release date is now officially set for June
for a number of European countries like Germany, Sweden, Great Britain, Italy and Poland.
The LG Optimus 4X HD sports a big 4.7-inch 720p IPS LCD screen and is powered by a quad-core Nvidia Tegra 3 processor. The silicon would have been its main advantage had it arrived first to the market with a quad-core chip like the Optimus 2X, but now it's facing intense competition from the HTC One X and the Samsung Galaxy S III.
Nonetheless, the Optimus 4X HD is a solid piece of technology, and has a big enough 2,150mAh battery and runs on the latest of Android, Ice Cream Sandwich. LG brings some of its own app flavor with a quick notes application and "Media Flex" for video playback. Check out our first-hand look at the handset back from MWC to get a better idea about the 4X HD, and let us know - do you think it can steal some of the sales of the One X and SGS III?