LG Optimus 2X scores high on Quadrant benchmark test, Motorola ATRIX 4G surpasses it
20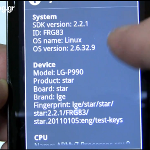 Before the CES, much of the buzz for the new wave of dual-core handsets was going to the LG Optimus 2X. After all, a video of a browser test that we
showed you
had the LG handset rendering web sites faster than one could blink an eye, which allowed the phone to easily beat the Apple iPhone 4 and the Samsung Galaxy S (of course, fans of the latter two phones would say that they would want the LG handset to repeat the test with one core tied behind its back).
During the CES, the LG Optimus 2X lost a little of its luster when the Best in Show Motorola ATRIX 4G strutted its stuff, not to forget the manufacturer's DROID Bionic. But the guys at TechBlog might have started the buzz for the Optimus 2X all over again following the Quadrant benchmark test that the LG model was put through. That is, until a video of the ATRIX 4G's own Quadrant benchmark test was revealed.
According to our tipster, Kevin, while the video shows a 2500 result for the Motorola ATRIX 4G, another time the handset scored 2700 although the video was not as clear. The bottom line is that like the events in Las Vegas, it looks like the LG Optimus 2X (headed for T-Mobile as we
reported
) is playing second fiddle once again to AT&T's own dual-core Superphone.
Thanks, Kevin!
source:
YouTube
(TechBlog channel) via
DailyMobile