The LG Optimus 2X could be heading to T-Mobile for its U.S. launch
16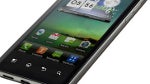 As we recently
reported
, the LG Optimus 2X is a top of the line Android handset that features the extremely quick NVIDIA Tegra 2 dual-core chip. As a taste of what to expect, a video that
we showed you
of a browser war between the LG Optimus 2X, the Apple iPhone and the Samsung Galaxy S revealed that the LG's handset was able to bring up a web site almost instantly, much quicker than the speed of the other two browsers.
We would imagine that any red-blooded carrier would love to have this phone in its line-up, but according to RCR Unplugged, T-Mobile will have first crack at offering this beast of a phone in March. The Korean based manufacturer calls the dual-core platform "instantaneous touch response". One person who has played around with the device says, "It's pretty sick" after plugging the phone directly into an HDTV (thanks to the handset's DLNA support) for 1080p video.
The road-map for the LG Optimus 2X has it making a debut launch on Korea, followed by an MWC European release. In February/March, the phone will finally make it to the U.S. with a launch via T-Mobile.
source:
RCRUnplugged