LG G4 based on Snapdragon 808 allegedly captured on camera
43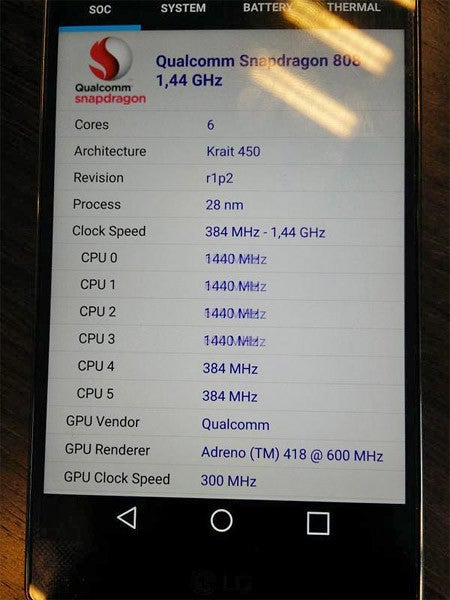 An alleged leak of the LG G4 running CPU-Z
A new photo that allegedly shows the
LG G4
being powered by a Snapdragon 808 is making the rounds online today. The photo shows an Android smartphone running CPU-Z, an Android app that gathers system information, but we can't verify that this is indeed the LG G4, so make sure to retain a dose of skepticism regarding the validity of this leak.
LG is set to officially
unveil the LG G4 on April 28th
, but between the manufacturer teasing various features such as the
high-resolution display
and the
new user interface
, and various leaks that reveal
most of the specs
and the
design of the LG G4
, we already know quite a lot about the smartphone. One aspect of the upcoming LG G4 that's currently not in the clear is the chipset of choice. According to an earlier leak, the LG G4 will be based on the Qualcomm Snapdragon 808 chip, the toned down version of the Snapdragon 810, and today's leak seems to reinforce this notion.
The Snapdragon 810 translated in a lot of negative publicity for Qualcomm in the past few months, as although the chip was proved to be significantly faster than the Snapdragon 801, multiple reports suggested that the Snapdragon 810 is
plagued by overheating issues
. The Snapdragon 810 makes use of four high-end ARM Cortex-A57 CPU cores paired with four power-efficient ARM Cortex-A53 CPU cores. The Snapdragon 808, on the other hand, comes with just two Cortex-A57 cores while retaining all four Cortex-A53 cores. Furthermore, the Snapdragon 810 also comes with an Adreno 420 GPU, while the Snapdragon 808 comes with a less-powerful Adreno 418 CPU.
One interesting detail to note from the recently-leaked photo is that CPU-Z lists Krait 450 as the CPU architecture, which is obviously incorrect. The last SoC to use Qualcomm's custom Krait CPU cores was the Snapdragon 805.