LG formally announces its new UX 4.0, will officially debut on LG G4
23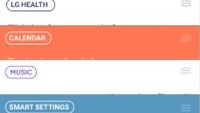 Just hours after
we got an early peek
at LG's new user experience for upcoming smartphones, LG officially announced UX 4.0. The company also confirmed that the new user experience will make its debut on the
LG G4
, to be unveiled at the end of April.
LG proclaims this latest update to be a more "personalized user experience" which will go beyond the normal conveniences we normally see with other UI enhancements. LG notes that UX 4.0 is a simpler interface with fewer configuration steps, yet still highly customizable.
Quick Shot is a new feature which can let you take pictures quickly by double-tapping the rear key, even if the display is off. Smart Bulletins have been improved to aggregate information from multiple apps. From the teaser video, it looks like a blend between Google Now and hitting the multitasking key.
There are more options for photo buffs too, with simple, basic, and manual controls. Simple Mode is basically the "all-auto" end of the spectrum while Manual Mode enables "full creative control" which LG says will "impress even the most experienced photographer." Mated to an F1.8 lens camera, the LG G4, and other devices that get UX 4.0, will be able to create event-specific photo albums.
As a whole, UX 4.0 learns more from your routines, making the Smart Notice smarter, and the information is far more relevant. So, if you are a runner, the notification will offer the weather forecast as well as additional tid bits like, "Perfect time to go for a run." Unique customizations continue from there where the UX 4.0 will also assign a unique ringtone ID for every caller that is in your favorites list.
With UX 4.0, LG is going deeper into the user experience while removing some of the redundancy that was found in previous generations of the UI. One could say, that LG is keeping the "LG" in the user experience. We are looking forward to seeing the UX in action, up close and personal when the LG G4 is announced on April 28th.
source: LG
LG UNVEILS MORE HUMAN-CENTRIC LG UX 4.0
Simpler, More Intuitive and Smarter Mobile Interface Understands Users Better
SEOUL, Apr. 7, 2014 ― LG Electronics (LG) today announced that its newest mobile user interface, LG UX 4.0, will be featured on the upcoming LG G4 to be unveiled at the end of the month. The upgraded user experience promises to be simpler and more intuitive and will better understand and respond to the needs of each user.
Since Quick Memo and QSlide were first introduced on the Optimus G in 2012, LG has introduced major UX enhancements every year with each G Series flagship smartphone:
| | | |
| --- | --- | --- |
| Version | Main Features | User Benefit |
| UX 1.0 | Quck Memo, QSlide | Efficient management |
| UX 2.0 | KnockON, KnockCode | Greater convenience |
| UX 3.0 | Gesture Shot, Touch & Shoot | Easier and simpler usage |
| UX 4.0 | Camera Manual Mode, Smart Notice | Personalized user experience |
Personalized user experience
Up until now, UX enhancements have generally focused on delivering greater convenience to all users. With the new LG UX 4.0, the focus shifts toward providing more optimized and intuitive convenience to each individual at every user level for optimal enjoyment of their LG device.
Simpler and More Intuitive to Use
First of all, LG has created a smoother user experience by simplifying the design of the user interface and making features simpler to use by eliminating many redundant configuration steps. For example, Quick Shot is a new feature that allows users to take pictures quickly by double-tapping the phone's Rear Key even while the display is off. And the improved Smart Bulletin automatically aggregates vital information from multiple apps on the same page for maximum convenience.
A Wider Range of Specialized Choices
UX 4.0 also gives users a wider range of options based on their own preferences and interests. The new camera offers three user modes ― Simple, Basic and Manual ― to meet the needs of all types of photographers, from amateurs to expert shutterbugs. Simple Mode does all the hard work automatically and still delivers great photos. Manual Mode features a suite of modules and options for full creative control that would impress even the most experienced photographer.
The improved calendar also offers more choices by giving users the ability to select and organize individual events posted in social media accounts by simply dragging and dropping appointments. The new calendar allows you to get more done with less typing by simply touching and gesturing.
Smarter UX That Understands You
The improved Smart Notice on LG UX 4.0 promises to provide more personalized notifications for weather, travel and more by analyzing a user's daily routine and travel schedule and combining this information with the user's lifestyle habits. A user who enjoys a game of hoops may receive a notification that says, "The weather will be mostly sunny today. It's the perfect weather to get out and play basketball."
Another example of greater customization in LG UX 4.0 can be seen in the Gallery, which can create event-specific albums based on the location and time each photo was taken. This intelligent customization goes even further with the Ringtone ID, which automatically composes a unique ringtone for every caller in the user's favorite contact list.
"LG UX 4.0 offers simpler, faster and more intuitive ways to use the G4 with both new and improved features that intelligently accommodate each individual user," said Juno Cho, president and CEO of LG Electronics Mobile Communications Company. "We will continue to better understand our customers so we can continue delivering innovations for a better life through our human-centric approach."
# # #