LG G3 QuickCircle case pops up in all variations, reveals custom interactive menus
22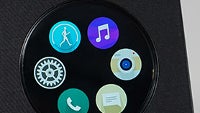 LG already made the LG G3
QuickCircle case official
, with the only mystery left out of the press release being the actual pricing. Now, a leak coming straight out of Vietnam, where LG has assembly factories, showcases the QuickCircle case in all its variations as it actually looks like, apart from the polished press renders.
As you can see from the slideshow below, several colors and textures will be available, and the case can be had either with, or without wireless charging capabilities built in. The more intriguing part, however, is that the circular cutout at the front of the case reveals an interactive part of the G3's display, which can show an abundance of clocks and other info, but also serve as an improvised app launcher, complete with a circular menu.
You can apparently access the calling and messaging functions from there, as well as your music player, camera, settings menu, and what looks like a pedometer app, which can be added in addition to the ones mentioned. Do you like what you see with the QuickCircle case concept that will be making a cameo alongside the G3?
Recommended Stories