LG G3 QuickCircle Case officially announced, will bring Smart Lighting to the smartphone
30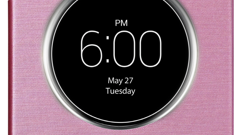 With less than one week before the grand unveiling of its new
G3
smartphone, LG today announced QuickCircle Case - an accessory that's "designed to make the G3 infinitely more useful." This is a folder-style case that
we've seen before
, and it will allow LG G3 owners to make use of various features of the handset without opening the case. According to LG, you'll be able to place calls, send messages, listen to music, take photos, and get updates on your health - all with the QuickCircle Case closed.
The new accessory comes with what LG is calling "Smart Lighting". This "emits a soft, white, circular glow inside the window whenever the case is opened/closed or a call/text message is received." Moreover, the case supports wireless charging. LG will offer the QuickCircle Case in five color variants: Silk White, Metallic Black, Shine Gold, Indian Pink, and Aqua Mint (you can see them below). Pricing details haven't been revealed.
"The smartphone ecosystem is constantly evolving - no longer are cases just for protection from the elements and bumps and drops. They're the perfect accessory to build in extra features that add more value to a mobile device. With QuickCircle Case, we've exceeded the baseline by making it customizable to better fit users' needs," declared Dr. Jong-seok Park, President and CEO of theLG Electronics Mobile Communications Company.
Earlier today, we informed you about the (apparently official)
specs of the LG G3
, which include a 5.5-inch Quad HD display, 13MP rear camera, quad-core Snapdragon 801 processor, and 3GB of RAM.
LG will fully reveal the G3 on May 27, and it might start selling it shortly after that. Well, we'll be here to let you know all about it.
Update
: Here's an official promo video showing off the QuickCircle Case, and a bit of the G3 (the whole idea seems pretty awesome to us):