Konami announces new Castlevania game for iPhone
4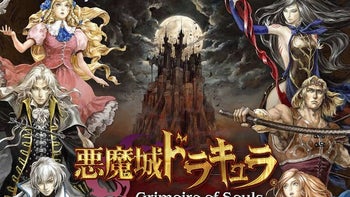 Japanese games developer Konami announced it will launch a brand new Castlevania game for iPhone – Grimoire of Souls. The upcoming game will star a new protagonist name Genya Arikado, a secret agent, who's accompanied by a mysterious magician, Lucy.
It appears that Grimoire of Souls will be exclusively available on the iOS, but that won't come as a surprise. Konami launched another
iOS exclusive
game called Castlevania Puzzle: Encore of the Night some time ago.
The new game requires at least iOS 9 and
iPhone 6S
,
iPad Air 2
,
iPad mini 4
, or
iPad Pro
to run properly. Also, Konami opened the game for closed beta registrations, but only in Japan.
It's yet unclear whether or not Castlevania: Grimoire of Souls will be launched in the US, but considering the previous title was available internationally there's a high chance it will happen again.
Grimoire of Souls doesn't have a launch date yet, but the pre-registration deadline for the closed beta will expire at the end of the month.
Konami
also fired up an official website for the game where you can find screenshots and a bit of info about the two protagonists, Genya and Lucy.