KitKat code given by HTC to Google; HTC One Google Play edition update in Google's hands
7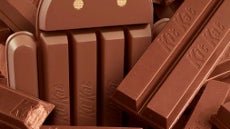 HTC America sent out a tweet on Friday to announce that it has sent Google the Android 4.4 code for the HTC One Google Play Edition. Because this is the stock Android version of the phone, it receives software updates directly from Google, and gets them faster than any other HTC One model. 15 days ago, HTC America president Jason Mackenzie said that KitKat would be on the phone in 15 days. With the deadline expiring today, HTC said that now that it has delivered the code to Google, it is up to the latter as to when the phone will be updated. In other words, HTC is saying that it is now Google's responsibility to deliver the update.
HTC certainly wanted to show that it had done all in its power to have the update made within the 15 days it had previously mentioned, thus the tweet sent out on Friday. So now it is up to Google. Hopefully, whatever Google needs to do to have the update distributed OTA to the HTC One Google Play Edition won't take much time.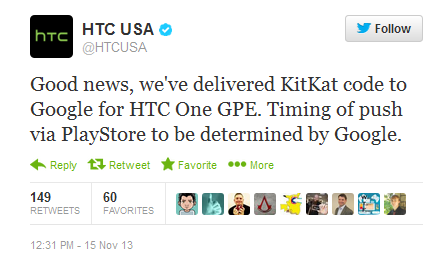 HTC says the Android 4.4 update for the Google Play Edition of the HTC One is in Google's hands
On the last day of October, a published report stated that the HTC One Google Play Edition would be updated to KitKat within 15 days as we've noted. The same report said that the HTC One Developer Edition would receive the Android 4.4 update within 30 days, and that
carrier bought HTC One models would be updated in 90 days
. However, we should point out that HTC has not always sent out updates when expected, and
even update schedules tweeted by HTC America president Mackenzie have been delayed
.
source:
@HTCUSA
via
AndroidCentral
Recommended Stories