Judge Koh denies Apple's and Samsung's bids to keep certain important documents secret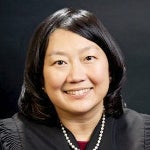 U.S. District Judge Lucy Koh has become quite a popular person in the tech world recently, as her name has been associated with the seemingly never-ending legal battle between Apple and Samsung. By the looks of it, the battle won't be coming to an end anytime
soon, and Judge Koh will continue to appear in our headlines, at least for the time being.
The latest developments around the Apple vs. Samsung case obviously have to do with some very important documents presented to the court by both companies. However, it now turns out that Apple and Samsung may have overdone it a little, and have filed petitions to ask the court to keep some of the submitted docs and info secret. Well, it looks like this ain't going to happen. Here's what Judge Koh had to say about it:
"It appears that the parties have overdesignated confidential documents and are seeking to seal information that is not truly sealable"... "Only documents of exceptionally sensitive information that truly deserve protection will be allowed to be redacted or kept from the public."
Tough luck for Apple and Samsung, we guess. Now, the parties better make sure to be well-prepared for the trial, which begins on July 30. We wish them luck!
source:
PhoneScoop