Apple, Samsung each cut back on claims for Judge Koh; Apple has a big decision to make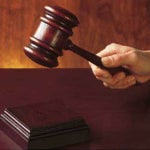 While you spent your fourth of July at the beach, soaking in the sun, listening to the play-by-play of the local baseball team, and reading phoneArena on your mobile browser, the
highly paid attorney's for both Apple and Samsung
had a much different Independence Day. They were in an office somewhere, strewn with empty pizza boxes, Chinese food cartons and legal pads. Their day consisted of brainstorming, trying to reduce the number of claims that their clients want to present in court in front of Judge Lucy Koh.
imposing strict time and exhibit limits
and by declaring summary judgments on some of those issues. This is when a judge feels that enough evidence has been presented prior to the trial, that the judge can make a decision on certain issues before they come up in trial. Before the latest cutting was done, Apple had a dozen claims against Samsung that it was going to present while Samsung had a half-dozen against Apple. The latter decided to drop one patent claim which, as it turned out, was the same multi-touch patent that a U.K. judge ruled was invalid the other day.
Samsung's request for summary judgment on all 12 claims against it was denied
.
Apple has also dropped "trade dress" claims against the Samsung GALAXY Tab and the F700 side-slider handset, but has added a list of new Samsung devices it feels infringe on Apple patents. While Samsung didn't drop the number of its patents it claims were illegally used by Apple, it did
drop the number of claims deriving from those patents from 15 to 9
. Later this week, Judge Koh is expected to make a ruling on whether the trial can soon start.
she will have to delay the trial until she rules on the new motion
. Considering
the strength of the '604 unified search patent
(now becoming known as the Siri patent) on the Samsung GALAXY Nexus injunction, Apple could decide to put the trial on hold while it goes after the Samsung Galaxy S III using '604 and the "data tapping" patent. If you were in Apple's shoes, what would you do? Here would be a chance to ban sales of the one Android phone
that could actually challenge the Apple iPhone
when it cones to sales. It would nip the competition right in the bud, confuse consumers, and with the Summer Olympics bringing on a new round of nationalism, it could cover turn this case into a U.S. vs. Korea battle and give Apple a number of new fans who would be buying the Apple iPhone because it would be viewed as something good for the country.
On the other hand, Apple might just want to get the trial moving, feeling confident that it can win at trial and do some permanent damage to Samsung and Android, or at least force Samsung to pay to license the patents in question. Either way, expect a
hard fought battle on both sides of the bar
.
source:
electronista