Joystick Flings with physical feedback on the iPad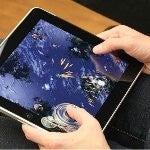 Let's admit it – the
iPad
is much better for gaming than a mobile phone with its huge screen, but it lacks the physical touch. Not any more, as folks from Ten One Design came up with the playful
Fling Joystick
providing real tactile feedback on top of Apple's iPad. We can see how your hands are getting itchy just looking at it, but hold on – the joystick is still not available. The crafty creation will be premiered at
CES
kicking off in Sin City in mere hours.
The joystick is equipped with suction cups to snap to the tablet's screen and off you go. Interestingly, the material sticking to the surface of the iPad is conducive, thus similar to your fingers. In addition, the small size and translucent build of the joystick provide for as much free space on the screen as possible. At a
price tag
of $25 it would be affordable for most of the hungry iPad gamers. Thanks, Ten One Design, for allowing us to finally get physical. With gadgets that is.
source:
Ten One Design
via
CrunchGear