Jitterbug Touch 2 makes the smartphone experience easier for seniors
5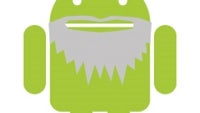 The
original Jitterbug phone was designed for seniors
who needed oversized keys and a large screen. Over the years,
the phone was updated to support text messaging
and
new colors
. Now, GreatCall introduces the
Jitterbug Touch 2
, powered by Android. It is designed to help featurephone buyers make the often confusing transition to smartphones. A study conducted this year by AARP Media Sales and GreatCall found that 40% of those surveyed thought that smartphones were too confusing to use.
The UI on the Jitterbug Touch 2 features large letters and lets users quickly access their favorite apps without having to scroll through tiny looking icons on multiple pages. GreatCall listened to its customers and made easy changes that mean a lot to its older customer base. Instead of calling the browser the "browser," something that confused seniors, the browser is now relabeled "internet". And because the voicemail icon was too confusing for the elderly, the icon was replaced by a title that reads voicemail.
In the previously mentioned AARP survey, 89% of the respondents said that afforability was important when deciding whether to buy a smartphone. The cheapest data plan on the market, $2.49 a month, is available from GreatCall. The idea is to prevent seniors from buying data plans they don't need. The Jitterbug Touch 2 is priced at $139.99 with no contract to sign and no cancellation fees. It comes pre-loaded with some health related apps inclkuding
5Star Urgent Response
which turns your phone into a medical alert tool for those times when you've fallen and can't get up.
Med Coach
is a medication reminder app and
Urgent Care
gives you one touch access to a registered nurse or licensed doctor that can even prescribe common meds 24 hours a day, 7 days a week.
Almost everyone knows a friend or loved one who has looked at a smartphone and said that they would love to learn how it works, For them, the Jitterbug Touch 2 is the perfect solution. Powered by Android 4.0, the phone offers a 4 inch screen, a 5MP camera, a front-facing snapper, and 512MB of native storage.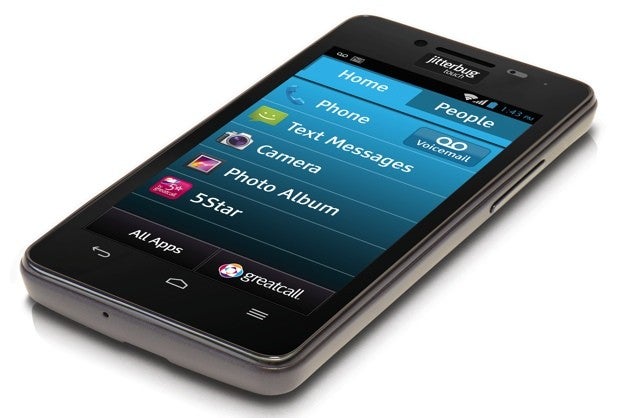 The Jitterbug Touch 2
source: GreatCall via
Engadget
SAN DIEGO (August 28, 2013) – GreatCall, Inc., a leader in wireless products and services for aging consumers and their families, today announced the launch of the Jitterbug Touch 2, the latest version of GreatCall's original simplified smartphone. With its custom, intuitive interface and advanced Android™ operating system, the Jitterbug Touch 2 is an ideal entry-level smartphone for people looking to transition from a basic feature phone.

The launch of the original Jitterbug Touch in 2012 allowed GreatCall to understand what aging consumers wanted and needed in order to make the transition from a basic phone to a smartphone. According to a 2013 AARP Media Sales and GreatCall study, more than 40 percent of respondents surveyed said that smartphones are too complicated to use. The Jitterbug Touch 2 will help bridge this gap in the market, by offering all the features of a modern smartphone in a simplified format.

The Jitterbug Touch 2 is easy to use

The new Jitterbug Touch 2 offers a customized, easy-to-use user interface, featuring the phone's main functions organized in a single list format with large, legible letters. The home screen allows customers to access their favorite apps and contacts quickly, without wading through multiple screens and small icons. Yet the phone's open environment provides full functionality and the ability to quickly connect to apps, websites and more.

GreatCall determined that users want access to all the technological advancements that a mainstream smartphone offers but they need a version that is easy to navigate and simple to set-up. For example, users found traditional verbiage and icons confusing because they lacked extensive experience with cell phones. For this reason, GreatCall made intuitive changes specifically highlighted by their customers – such as relabeling confusing terms and visuals like changing the name of the "browser" function to "Internet." Additionally, the voicemail icon was not recognizable to this audience, so it was changed to the word "voicemail". By listening to its customers, GreatCall was able to make the smartphone experience more intuitive with the Jitterbug Touch 2 for this audience of aging Americans.

"When we released the original Jitterbug Touch, we put it in the hands of our customers to learn firsthand how we could improve their smartphone experience," said Dean Williams, Vice President of Technology at GreatCall. "This customer feedback proved to be crucial in the development of this second generation phone, allowing us to see into the minds of our customers to determine what would add the most value and functionality for them."

The Jitterbug Touch 2 offers affordable and flexible data plans

Another key learning since launching the original Jitterbug Touch was an understanding of how customers use data, and how much they need. GreatCall allows customers to only pay for data they need, instead of a costly plan with data they'll likely never use. GreatCall offers plans that start at only $2.49 per month – the most affordable rate on the market.

In the same AARP Media Sales and GreatCall survey, 89 percent of respondents thought affordability was extremely or very important when making the decision to purchase a new smartphone. GreatCall's data plans are designed to ease customers into data who are using a smartphone for the first time, making it even easier for users to try data plans and find a solution that works best without getting burned by heavy data charges. Customers can track their usage with the usage meter, built right into the home screen. With one touch of a button, users can see their up-to-date monthly usage of minutes, text and data, allowing them to avoid overage charges.

The Jitterbug Touch 2 is priced at $139.99, with no contracts and no cancellation fees. Additionally, every GreatCall product comes with dependable, nationwide coverage and the support of award-winning, 100 percent U.S. based customer service.

The Jitterbug Touch 2 can keep you safe and healthy

In addition to ease-of-use and affordability, GreatCall determined that more than 30 percent of customers would like a medical alert device and smartphone all-in-one. The Jitterbug Touch 2 can help customers with medical or emergency response needs, by providing GreatCall's suite of health and medical apps preloaded on the phone:

· 5Star Urgent Response – This mobile safety app transforms the Jitterbug Touch 2 into a medical alert device. With 5Star, users get immediate access to NAED Certified Response Agents trained in CPR and other emergency procedures who can identify a user's location, dispatch emergency services and quickly get them the help they need in any situation.

· MedCoach – GreatCall's medication reminder app allows users to easily follow medication and vitamin schedules as prescribed by their doctor, with a friendly reminder message delivered directly to their phones.

· Urgent Care – Recently topping the iTunes and Google Play medical app categories, Urgent Care combines one-touch access to a registered nurse or board-certified physician who can provide medical advice or even prescribe common medications, 24 hours a day, 7 days a week.

The phone can be purchased directly from GreatCall at www.greatcall.com or by calling 1-866-352-0044.

Key Features of the New Jitterbug Touch 2:
· Easy-to-use, custom designed user interface

· Contacts and apps listed in a single list format with large, legible letters

· Usage meter to see your minute, text and data usage right on your phone

· Large, bright 4" display screen

· Sleek, stylish design

· Full, on-screen keyboard for quick and easy typing

· 5 MP camera, with front-facing camera

· Long-lasting battery

Handset Specifications:
· Talk Time: Up to 5.3 hours

· Operating System: Android 4.0

· Standby: Up to 13 days

· Weight (with battery): 4.9 ounces

· Dimensions: 4.9" H x 2.5" W x .45" D

· Display Size: 4"

· Battery Type: Lithium Ion

· Memory: 512 MB