Newly revised Jitterbug J is a no-frills phone for everyone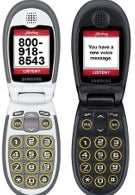 It is amazing how many features can be packed into a cellphone. Today's smartphone is a web browsing, YouTube viewing, text sending, document editing, app loading monster. But not everyone needs their cellphone to have computer-like applications. On the other end of the spectrum is Samsung's Jitterbug phone. The device, with its simple UI, huge fonts and huge buttons, was designed for senior citizens who could use a phone in case of emergencies (I fell down and I can't get up) or to show off at the diner during early bird dinner ("Look Edna, I got one of those new fangled phone-thingies"). Now, the manufacturer has decided to expand the target buyer of the handset by revising the original unit and producing the Jitterbug J.
The new device has a improved UI, support for text messaging and Bluetooth. Considering the odds are that you have never seen your grandmother working her thumbs to text her BFF, the idea for adding such new features is to make the Jitterbug J an easy to use, simple phone for those who normally eschew modern technology, and need a mobile phone to call AAA or a friend when the car breaks down. Available in black or white, the price for low tech is $147 off contract and rate plans start as low as $29.99 for 200 anytime minutes and 500 night and weekend minutes.
source:
Jitterbug
via
EngadgetMobile