Instagram's latest update allows users to reshare Stories that mention them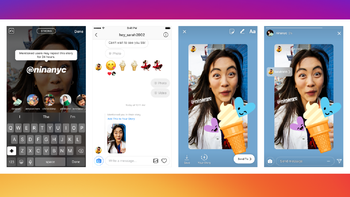 Last month Instagram introduced resharing within its app, a feature that many compared to Twitter's retweet at the time. Now, ahead of the introduction of
the new video hub
, the
Facebook
-owned company has confirmed that some new improvements will be coming to the reshare option.
In the latest app update, users of the photo-sharing social network will be able to easily reshare any Stories that have mentioned them. Until now, whenever a user was mentioned in a Story, a notification within the DM chat would appear in order to notify them. If somebody then wanted to reshare this it had to be screenshotted and reposted manually. However, moving forward, this will no longer be the case. Instead, along with the usual DM notification will be a new "Add This to Your Story" button that will allow Instagram's user base to do just that. After this, the process is just like any other
reshare
. This means the content can be resized, rotated, and moved around, while stickers, GIFs, or even text can be added on top. As an added bonus for the original sharer, their username will also appear below, allowing others to check out their profile. Nevertheless, Instagram does warn that the feature is only compatible with public profiles.
Those interested in the new feature will be pleased to know that it is rolling out today as part of version 48 of the
Android
and iOS apps. In light of this, users who want the feature will have to download the newest update from the Play Store or the
App Store
if they haven't already.