International Samsung Galaxy Note 3 gets another bug killing update
23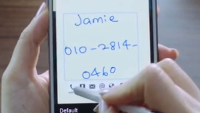 The International version of the
Samsung Galaxy Note 3
, known as the SM-N9005 in the geeky side of town, has just received another OTA update taking the unit to firmware version UDMJ6. The update weighs in at 116MB and includes a fix to the reactivation lock. This lock requires you to sign into the phone with your Samsung account after a factory reset, and the phablet came out of the box with the default switch "on" for the feature.
While the reactivation lock could help lock out thieves like it is intended to do, coming to market with the default on might make it difficult for a legitimate owner to sign back in if he or she doesn't remember the particulars of the Samsung account associated with the phablet. As a result, this update will turn the default position to "off". If you are a new Galaxy Note 3 owner and you want the reactivation lock on, you need to do it yourself by going to Settings > General > Security.
After being repaired thanks to the update, Galaxy Note 3 users will now be able to reactivate the direct pen input and the one-handed windowed mode after setting up their device to work with the Pebble smartwatch. Lastly, the update brings some changes to the virtual QWERTY keyboard.
source:
AndroidCentral