Intel-powered Lenovo Ideaphone K900 goes on sale on May 6
16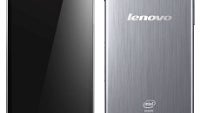 The
Lenovo Ideaphone K900
is one of the more interesting Android smartphones that will appear in the first half of the year. What makes it so intriguing is not only the Intel Atom processor, but also the premium and appealing metal body design that differs vastly from the image of the typical Android smartphone.
Scheduled to go on sale on May 6, the K900 will be equipped with not feature any of the numerous ARM-based processors around, but will instead be equipped with Intel's dual-core Atom Z2580 Clover Trail+, clocked at 2 GHz. We really doubt it that Lenovo will be able to squeeze more power from this processor compared to the better ARM solutions available, so we guess this move is supposed to attract attention to the product, rather than add some form of value.
Anyways, we've tested the phone on a few occasions and it ran just fine. It's also very cool-looking, although quite big, due to the rectangular shape and gigantic, 5.5" 1080p display. So, yes, this should technically be considered a 'phablet', if 'phablet' could really be considered a technical term...
The bad news here is that the Lenovo Ideaphone K900 will likely remain in China, at least initially. We're not aware of any specific plans by Lenovo to bring the K900 to other markets like Europe, but let's keep our fingers crossed and see what happens!
via:
IntoMobile