Instant Apps start surfacing on some Android handsets; Wish is the first app to employ it?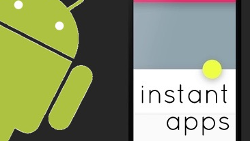 The last time we passed along some information about Instant Apps,
it was last May and Google I/O had ended a week before
. One of the new Android features discussed at Google I/O was Instant Apps. Just to set the record straight, Instant Apps has nothing to do with pouring freeze-dried app crystals into a mug and adding hot water. Instead, you will see a link for an app in your Google Search results, on a social media site or while messaging. Tap on a button, and you are ready to use the app without installing it on your phone.
With Instant Apps, Android users get to experience a company's Android app instead of staring at a website that might be too unwieldy for a phone screen. The Instant App version of an app is restricted and doesn't offer things like background services and background notifications.
Some using a handset powered by Android 7.0 are reporting that the first Instant App has appeared on their phone. Shopping app "Wish" appears to be the pioneering first app to show up on a Google Search result ready and able to be used in the blink of an eye. Instant Apps work by downloading to an Android device only the necessary code and imagery to run a particular part of the app. And Google says that developers will need just a day to add Instant App functionality to their Android app.
To be able to use Instant Apps, you will need to enable it on your phone. Just go to
Settings
>
Google
>
Instant Apps
>
click the switch
>
agree to the terms
. If you can't find this in your phone's settings, it means that the Instant App functionality has yet to hit your handset. Try back later. As more and more apps join the Instant Apps lineup, it will become clearer whether or not Android users are on board with the idea of using an app without leaving Google Search and opening the Google Play Store to fully install it on their phone.
"Android Instant Apps functionality complements an existing Android app, but does not replace it. Android Instant Apps uses the same Android APIs, the same project, the same source code. Android Instant Apps restricts some features that might not match users' expectations of an app that is not installed. For example, an Instant App can't use background services, do background notifications, or access unique device identifiers."-Android Developers
96% of Android users will eventually get to use this new feature since it will be available to those using Android 4.1 JellyBean or higher.
source:
AndroidCentral