Infinity Blade gets updated for the iPad 2, to give the dual-core chipset a run for its money
1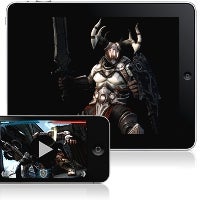 One of the
best-selling
iOS games, Infinity Blade, will receive a new version soon, tailored specifically to the iPad 2.
The team behind the game announced that the new iteration will be able to take full advantage of the fast dual-core chipset in the iPad 2, which should mean textures with higher resolution, as well as more enemies on the screen at the same time to slash and burn.
Hopefully all major studios will follow up with updates of their popular iOS games that utilize the two-core CPU, and the PowerVR SGX543MP2
graphics prowess
on the iPad 2.
When Google introduced Honeycomb, we saw a game, called
Great Battles Medieval
, that was written from the ground-up with dual-core in mind, and it looked fantastic, so we have no doubt iOS developers are hard at work now to take advantage of all that additional power too.
Have a look at what the strategy game Great Battles Medieval, that has been created for dual-core, looks like on an NVIDIA Tegra 2 tablet, to gauge from the developers' talk what advantages dual-core brings. It starts about 17:00 into the video.
source:
Gizmodo