The iPad 2 graphics chip dwarfs its older version in the Nexus S on video, game developers rejoice
4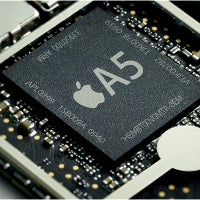 At its presentation of the
iPad 2 on March 2nd
, Apple mentioned that the new graphics subsystem inside has
9x
the capabilities of the previous version. Considering that the previous iPad and iPhone GPU was Imagination Technologies' PowerVR SGX535, these numbers can only be achieved by a dual-core
PowerVR SGX543MP2
, which is probably exactly what we have in the Apple A5 chipset inside the iPad 2.
We won't be citing exact triangles per second and other geek talk, we'll just mention that Samsung advertised SGX540, which is in the
Galaxy S
and Nexus S, as capable of 90 million triangles per second theoretically, making it the most capable mobile graphics subsystem last year, even on par with what we have in the NVIDIA Tegra 2 dual-core chipset. You can read more about the different dual-core chipsets and their graphics capabilities in our article
here
.
To demonstrate the might of the PowerVR SGX543MP2 visually, it has been compared to the SGX540 in the
Nexus S
on video, using a complex 3D rendering benchmark. The image on the right, which is coming from the Nexus S, is clearly not as smooth as the one on the left, powered by the PowerVR SGX543MP2 dual-core GPU, as found on the iPad 2. The same GPU is going into the Sony PSP2, but in its MP4 quad-core version.
Important iPad game developers, such as Epic Games, makers of
Infinity Blade
, using the Unreal Engine 3, Unity, and Firemint, which develop Real Racing HD, already mentioned that their engines allow them to take advantage of the dual-core nature, graphics might, and the new motion sensors inside the iPad 2.
Dual-core means more enemies on the screen at once, as
demonstrated on Tegra 2 tablets
, and broader environments, while the increased graphics performance will bring in more complex game physics, richer textures and shaders, all running fluid with high frames per second rate.
Firemint in particular mentioned they will be improving the steering feel because of the new gyroscope, and bumping up the graphics quality to take full advantage of the Apple A5 chipset in the iPad 2.
source:
TUAW
&
Engadget