Inbox by Gmail for Android scores an incremental, yet time-saving tweak for its Snooze feature
3

Inbox by Gmail, which is already openly available for just anyone sporting an Android device without an invite, has scored some incremental, but pretty useful improvements to one of its most niftiest features - Snooze. Up until now, you were presented with basic functionalities when you opted to swipe-away-and-snooze a given item in your inbox, but thanks to the recent additions, Inbox by Gmail is now way smarter.
Now, if an email contains a fixed date or time for a scheduled event (a business dinner, for example), you can now opt to snooze the email to notify you about the event in question an hour beforehand. This can be done with a single tap in the snooze menu, making sure that it will be quite convenient to make use of the small newly-added feature.
It is said that this feature will work with package tracking updates, restaurant and event reservations, calendar invites, flight confirmations, hotel reservations, as well as reservations for rental cars. The feature is already live, so you can give it a spin right now (if you're running the latest version of Inbox, of course).
The feature is not yet available on the iOS version, though.
Download: Inbox by Gmail (
Android
|
iOS
)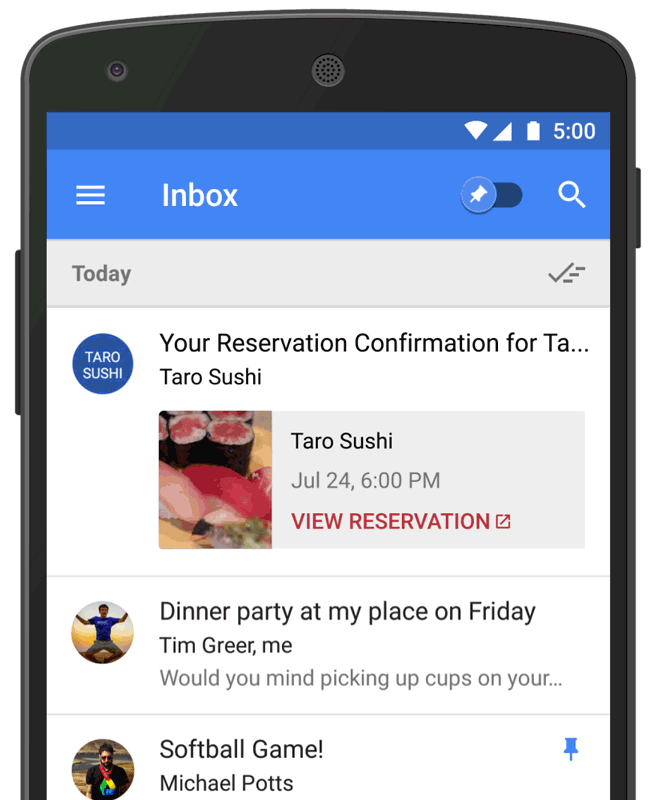 source:
Inbox
via
Android Authority