If you want to know what's inside the HTC EVO 3D, first teardown video appears
4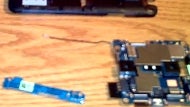 It's fascinating how cell phone manufacturers these days manage to cram a dual-core chipset, memory and baseband connectivity in a small PCB board.
Even more amazing is when they fit two stereoscopic cameras and a parallax barrier display in something so slim and light that you can hold it comfortably in your hand, or put it in your pocket.
A few
HTC EVO 3D
enthusiasts have taken one unsuspecting representative, and tore it down to pieces to see what's inside, something you've always wanted to do, but didn't want to try on your own unit.
Performing this great services to mankind seems to be a fairly easy task with the right tools, but the whole miniaturization of the components inside can really leave you breathless. Granted, the video itself is not of stellar quality, as we've come to expect from professional chopshops like
iFixit
, but until they do it, footage taken with a
Motorola ATRIX 4G
will have to suffice. It wasn't mentioned if the guys managed to put it back together without any spare parts left.
via
XDA-Devs