HTC EVO 3D Review
76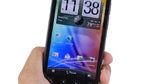 Introduction:
Blasting its way to the top of Sprint's lineup, the
HTC EVO 4G
continues to be a renowned handset even to this day, but more importantly, it's one of the evolutionary devices that seemingly set the bar high when it was released a year ago. Granted that it's not a true successor, the
HTC EVO 3D
is in some ways closely related due to the fact that it shares the same foundations, while throwing in a couple of neat 3D functions into the mix. Essentially regarded as an upgraded model, the $199.99 on-contract HTC EVO 3D is especially nice on paper – even more when you take into account its 3D aspects combined with its high-end specs. However, in a time when top-shelf devices are ostensibly in abundance everywhere you look, the 3D nature of the HTC EVO 3D is undoubtedly going to raise some eyes. Let's just hope that it cohesively executes, but if not, it may ultimately end up as a forgettable novel thing.
The package contains:
HTC EVO 3D
8GB microSD card preloaded
microUSB cable
Wall Charger
Get Started Guide
Terms & Conditions of Services
Design:
So what can we say about yet another top-shelf Android powered HTC phone? Well, it's definitely not the best design we've seen put out by the Taiwanese company, but nonetheless, it makes some marked improvements over the EVO 4G. Constructed out of plastic still, the handset is thinner (0.47") and feels less bulky in the hands, which can be attributed to its slightly longer form. Not surprisingly though, it retains some of the design elements established with the HTC EVO 4G, but goes further to concretely make it more refined. Specifically, its soft touch matte rear employs a rigid pattern that provides an adequate grip when held. All in all, it's an undeniably distinguishable EVO device – albeit, it's not as sexy looking compared to things like the
HTC Sensation 4G
and
Inspire 4G
.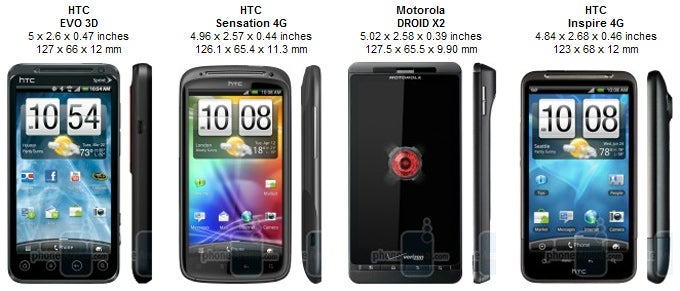 You can compare the HTC EVO 3D with many other phones using our
Size Visualization Tool
.
Obviously, one of the first visible improvements with the HTC EVO 3D is the higher resolution
4.3"
qHD (540 x 960)
Super LCD display
that it's packing. Compared to the one gracing the EVO 4G, this one is indeed far better with its sharper details, iridescent color production, and high contract – albeit, it washes out at extreme viewing angles.
Making it unique versus the competition, its parallax barrier overlay offers a
3D viewing experience
without the aid of any gimmicky glasses. If you've checked out the 3D display on the Nintendo 3DS, you'll easily comprehend how to work the 3D display of the HTC EVO 3D. In order to experience that 3D effect contently, you need to view the display at a 90-degree level and wait a few seconds for your eyes to adjust. Interestingly enough, it actually works rather well! Not only are we enthralled and mesmerized by this, but it dishes up a sensible amount of depth perception with 3D content. However, you're required to keep a steady hand, mainly because of the shimmering effect seen if you happen to tilt it lightly. In our experience, we're able to view 3D content for an extended amount of time, but it's worth noting that the prolonged usage can be rather irritating or nauseating for some people. In the end, it simply works!
Again, you can clearly indicate that it's from the EVO family because of the circular rings surrounding each
capacitive touch Android button
. Seeing that they're placed close to the bottom edge, we tend to accidentally hit the search and home buttons more frequently than others.
Above the display
, we're presented with the light & proximity sensors, wide looking earpiece grill, 1.3-megapixel front-facing camera, and LED light indicator that's placed towards the right side of the earpiece.
Peeking over on the
left edge
of the phone, the only thing there is the microUSB port that's used for charging and data purposes. Even though it lacks a dedicated microHDMI port, you can still output high-def videos and get a mirrored experience if you happen to purchase an optional MHL adapter that plugs directly into the microUSB port.
Meanwhile, the clicky volume rocker, camera mode switch, and circular sized two-level shutter button are prominently positioned all
on the right
side of the handset.
Both the 3.5mm headset jack and dedicated power button are placed along
the top edge
, and even better, we're thrilled to easily make out and feel its power button.
In the rear
, we're presented with yet another featured item with the handset – the dual 5-megapixel auto-focus 3D camera with dual-LED flash. With the tandem, it snaps stereoscopic 3D stills and videos. Although it's hard to make out, there are tiny notches punctured into one area on the red trim surrounding the cameras, which hides away the handset's speaker.
Yanking off the rear cover
, it gives us access to its battery and microSD card slot – however, you're required to pull the battery beforehand if you want to swap out the microSD card.
HTC EVO 3D 360-degrees View: