IDC: Q2 global smartwatch shipments drop 32%; Apple Watch deliveries drop 55%
37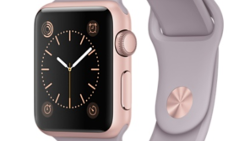 According to IDC, year-over-year smartwatch shipments declined for the first time ever during the second quarter. 3.5 million units were shipped during the three month period that ended in June. That compares to the 5.1 million intelligent timepieces that were delivered in the 2015 quarter, and represents a 32% decline. Only one manufacturer in the top five had a year-over-year drop in shipments, and that was Apple.
The Apple Watch shipped 1.6 million timepieces in the quarter, giving it a 47% market share. That was a decline from the 3.6 million units Apple shipped in the same quarter last year, when it owned an impressive 72% of the market. Samsung saw its smartwatch shipments rise 51% during the second quarter as deliveries rose year-over-year from 400,000 to 600,000. The company's global market share more than doubled from 7% to 16%, allowing Sammy to take second place behind its rival.
Lenovo scored the best growth in global smartwatch shipments during the quarter with a 75% year-over-year gain. The company had 9% of the market, up from the 3% it owned last year. LG (8% of the global smartwatch market) and Garmin (4%) round out the top five.
"Consumers have held off on smartwatch purchases since early 2016 in anticipation of a hardware refresh, and improvemnets in WatchOS are not expected until later this year, effectively stalling existing Apple Watch sales. Apple still maintains a significant lead in the market and unfortunately a decline for Apple leads to a decline in the entire market. Every vendor faces similar challenges related to fashion and functionality, and though we expect improvements next year, growth in the remainder of 2016 will likely be muted"-Jitesh Ubrani, senior research analyst, IDC Mobile Device Trackers
IDC expects growth in the smartwatch market to return in 2017, possibly spurred on by the next generation Apple Watch rumored to be introduced in September.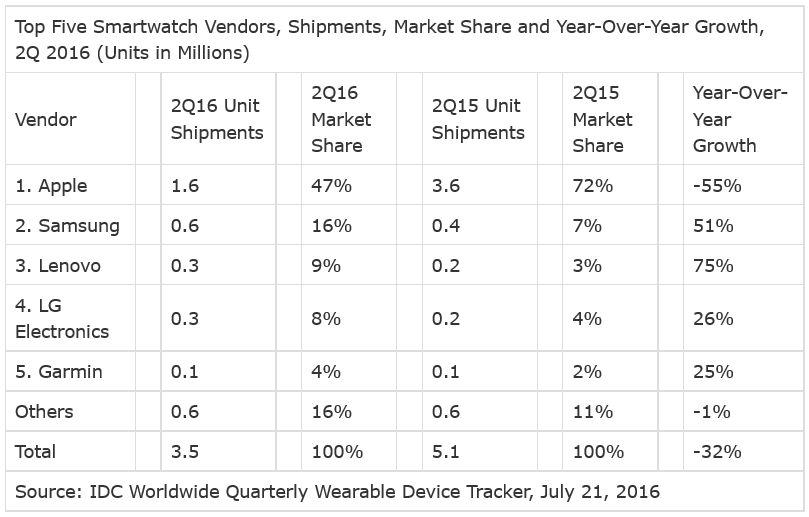 Smartwatch shipments declined year-over-year during the second quarter
source:
IDC