Huawei Mate 20 & Mate 20 Pro firmware details a number of new features
11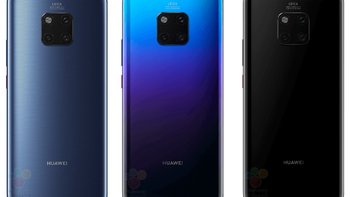 Leaked Huawei Mate 20 Pro renders
Last week, a group of slides revealed the feature set of Huawei's upcoming Mate 20 and Mate 20 Pro. Following this, the guys over at
XDA Developers
decided to sieve through that Mate 20 firmware in order to corroborate this information. But in the process, they also found a few new details.
Kicking things off with some of the external aspects, the firmware confirms that the regular Huawei Mate 20 will sport a large 6.53-inch TFT display that boasts a resolution of 1080 × 2244p. This will be powered by a 4,000mAh battery on the inside. For comparison, the premium Mate 20 Pro boasts a 6.3-inch curved AMOLED display and a 4,200mAh battery. As revealed previously, these will both support wireless charging, but the latest firmware inspection does confirm that
the Freebuds 2 Pro
will also charge wirelessly by placing them on the rear of the models.
Elsewhere in the firmware, references to Wireless Easy Projection were found. Huawei initially debuted Easy Projection last year as a Samsung DeX rival. With the Mate 20 series, though, the company is set to debut a wireless alternative that will work with 2.4GHz and 5GHz Wi-Fi connections. Coincidentally, this information has surfaced just hours after a report revealed Samsung was working on
a similar solution
.
One final feature comes in the form of HiVision which is essentially Huawei's alternative to
Google Lens
. This has already been confirmed by the company but is yet to be introduced. It will be capable of recognizing food and displaying both the nutritional value and calorie count of items. In addition to this, the software will also identify landmarks, paintings, and even languages – real-time translation will be possible thanks to Microsoft Translate.