Huawei's next AirPods rival will charge wirelessly on top of the Mate 20
17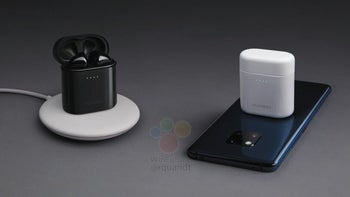 Earlier this year, alongside the P20 and P20 Pro, Huawei announced its own take on Apple's AirPods:
The FreeBuds
. On paper, the idea seemed pretty good, but in actual fact, the product ended up looking like a cheap knockoff of Apple's version. Since then, Huawei has been hard at work refining its alternative and, come next month, will debut a significantly improved version dubbed FreeBuds 2 Pro.
Looks-wise, the new wireless earphones appear to have been shortened slightly, bringing down to the length of Apple's
AirPods
. Moreover, the bulkiness of the previous in-ear part has been reduced too. In fact, Huawei has replaced the previous design with a completely new one that does away with the rubber tips. When it comes to features, the new FreeBuds 2 Pro integrate support for the Hi-Res Wireless Audio protocol, allowing for a significantly improved audio experience. Also, the accessory can act as a headset and can also be used to communicate with the Google Assistant whenever connected to a smartphone via Bluetooth. This will be helped by the improved voice recognition that comes with the new bone sensor – the earphones can actively distinguish the user's voice via bone conduction.
As with the original FreeBuds, the second-generation will also make use of a charging case. However, some major modifications have been made. First off, the overall look is now much more reminiscent of the charging case
Apple
bundles in with its AirPods. Secondly,
Huawei
has bundled in wireless charging. This is where things get interesting because, just as illustrated in the image above, the new case will be compatible with QI wireless charger. In addition, though, the case can also be recharged by placing it on the rear of the Mate 20 or
Mate 20 Pro
.
As with these two smartphones, Huawei's FreeBuds 2 Pro will go official
on October 16
in London. It's unclear when shipments of the new accessory will begin but pricing in Europe is expected to sit between €150 and €160.
Recommended Stories