Wireless DeX connection is apparently in the works, so fingers crossed for the Galaxy S10
16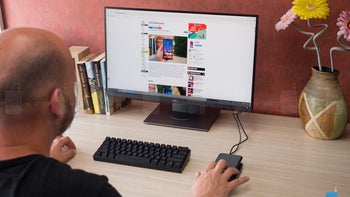 Smartphones may have altogether replaced larger computers for many people, but others would still like to be able to seamlessly switch between a mobile and desktop experience for both fun and work.
Quite a few companies have tried different methods of making that connection as smooth as possible over the past decade or so, but unfortunately, Microsoft halted all
Continuum
experiments when throwing in the Windows Mobile towel, while Razer has yet to bring
Project Linda
to market.
That leaves Samsung totally relaxed to play around with the DeX concept, which was introduced to the public roughly 18 months ago with a pretty rudimentary
Galaxy S8 docking station
.
The concept evolved when a
DeX Pad
was unveiled alongside the Galaxy S9, turning the phone into a touchpad capable of interacting with an external monitor in new and exciting ways.
The
Galaxy Note 9
took things to the next level by requiring just a
USB-C to HDMI dongle
to transform a "dumb" display into
a full-fledged PC
, and at some point in the not-so-distant future, Samsung phones may not even need a cable to tap into DeX mode.

You don't have to take our word for granted, as a Samsung Community moderator recently confirmed talks with company developers regarding this very topic. As it turns out, a "wireless connection for DeX" is already in the works, but unsurprisingly, "a few improvements" still "need to be made" before the implementation is deemed ready for primetime.
There's currently no timeline for when that might happen, and no word on the nature of challenges faced by devs in refining the wireless experience, but if you ask us, this sounds like a perfect anniversary-edition
Galaxy S10
selling point. It wouldn't be a major new feature, but any small step forward is welcomed as we inch closer to the dream of "one device to rule them all."