New Huawei Mate 20 & Mate 20 Pro teaser focuses on the Kirin 980
15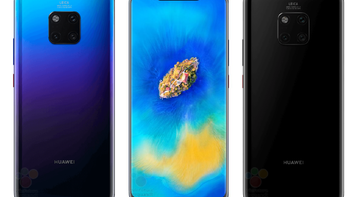 Huawei has been teasing the Mate 20 series rather consistently for the past few weeks and, even though the premium Mate 20 Pro
leaked out entirely
yesterday, the Chinese brand is acting as if nothing happened. And in its latest teaser for the device, the company has focused on the smartphone's processor.
As revealed towards the end of August at IFA 2018, the Huawei Mate 20 and Mate 20 Pro
will both arrive
with the new Kirin 980 chip inside. This is the world's first one to be built on the new 7-nanometer processor, although it's worth noting that the new
Apple A12 Bionic
did beat Huawei's chip to the market – the Kirin 980 will actually make its debut inside the Mate 20 devices.
Performance-wise, recent benchmarks did showcase huge performance gains over both the Kirin 970 and Qualcomm's
Snapdragon 845
. In addition, Huawei itself claimed that the chip is both 37% more powerful and 32% more efficient than Qualcomm's alternative. Separately, the company also stated that its latest chip will be
better than Apple's
latest offering. However, considering the A12 Bionic is arguably the most powerful chip on the market at the moment, the accuracy of these claims will remain to be seen.
For now, those interested in Huawei's latest processor, or the Mate 20 and Mate 20 Pro, will have to wait
until October 16
to find all the full details. Sales of the devices are expected to begin in the final week of October.