Huawei Mate 10 Pro vs. Mate 10 Porsche Design - what's different?
8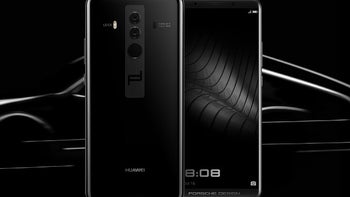 But what's so different about the Mate 10 Porsche Design that Huawei dares asking an extra $425 for it? Well, let's find out.
The Huawei Mate 10 Pro and Mate 10 Porsche Design are similar in many regards, including size, weight, and screen diagonal and resolution (6 inches, 1080 x 2160 pixels). The handsets are powered by the same processor (octa-core HiSilicon Kirin 970), have the same front and rear cameras, and similarly-sized 4000 mAh batteries. Furthermore, both phones offer 6 GB of RAM, and are dust- and water-resistant. The only internal difference between the two devices is related to storage space - the Mate 10 Pro has 128 GB, while the Mate 10 Porsche Design doubles that to 256 GB.
A more obvious difference is related to the phones' appearance. The Mate 10 Pro is available in either Titanium Gray, or Midnight Blue, while the Mate 10 Porsche Design comes in a single, exclusive Diamond Black color, with a distinctive rear pattern and Porsche Design branding. Take a look at the three color variants below.
Compared to the Mate 10 Pro, the Mate 10 Porsche Design has some extras in the box, including a soft black grain leather case, a car charger, and a Porsche Design VIP card. Moreover, while both smartphones run Android 8 Oreo with Huawei's EMUI, the interface of the Porsche Design handset is customized to reflect its branding.
From a practical point of view, we'd say the Huawei Mate 10 Porsche Design is not worth the extra $425, as the Mate 10 Pro offers the very same performance and specs (the halved internal memory doesn't matter that much, as 128 GB is aplenty anyway). Then again, the Porsche Design Mate 10 is made for people who can afford to buy expensive things without questioning their practicality.
HDR support, Ambient light sensor, Proximity sensor
HDR support, Ambient light sensor, Proximity sensor
HiSilicon Kirin 970 (10 nm)
HiSilicon Kirin 970 (10 nm)
Octa-core, 2360 MHz, ARM Cortex-A73 and ARM Cortex-A53, 64-bit
Octa-core, 2360 MHz, ARM Cortex-A73 and ARM Cortex-A53, 64-bit
Mali-G72 MP12
Mali-G72 MP12
128GB, not expandable
256GB, not expandable
Android (9.0 Pie, 8.0 Oreo), Huawei Emotion UI
Android (9.0 Pie, 8.0 Oreo), Huawei Emotion UI
Fast charging
Fast charging
12 MP (OIS, Laser and PDAF, CMOS image sensor, BSI sensor)
12 MP (OIS, Laser and PDAF)
Aperture size: F1.6; Focal length: 27 mm; Sensor size: 1/2.9"; Pixel size: 1.25 μm
Aperture size: F1.6; Focal length: 27 mm; Sensor size: 1/2.9"; Pixel size: 1.25 μm
20 MP (Black and White, OIS, Laser and PDAF, CMOS image sensor)
20 MP (Black and White, OIS, Laser and PDAF)
Aperture size: F1.6; Focal Length: 27 mm; Sensor size: 1/2.7"; Pixel size: 1 μm
Aperture size: F1.6; Focal Length: 27 mm
3840x2160 (4K UHD) (30 fps), 1920x1080 (Full HD) (60 fps), 1280x720 (HD)
3840x2160 (4K UHD)
Time-lapse video, Continuous autofocus, Object tracking, Picture-taking during video recording, Video light, Video calling, Video sharing
Video calling, Video sharing
8 MP
8 MP
1920x1080 (Full HD) (30 fps)
6.07 x 2.93 x 0.31 inches (154.2 x 74.5 x 7.9 mm)
6.07 x 2.93 x 0.31 inches (154.2 x 74.5 x 7.9 mm)
6.28 oz (178.0 g)
the

average

is 6 oz (171 g)
6.28 oz (178.0 g)
the

average

is 6 oz (171 g)
Back: Glass; Frame: Metal
Back: Glass; Frame: Metal
Water, Dust; IP67
Water, Dust; IP67
Fingerprint (touch)
Fingerprint (touch)