Porsche Design Huawei Mate 10 coming to the US in February, priced higher than iPhone X
10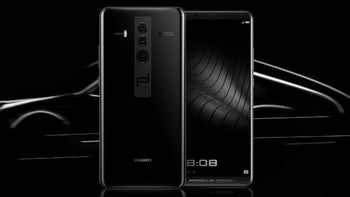 This February, Huawei is bringing its top smartphone stateside. The
Huawei Mate 10 Pro
will officially go on sale on the 18th next month, carrying a $799 price tag. But it won't be alone in Huawei's push to gain the US smartphone enthusiast's attention. At CES 2018, Huawei announced that it will launch the
Porsche Design Huawei Mate 10
in the States as well.
But the luxury handset won't be cheap. In fact, the Porsche Design Huawei Mate 10 will cost $1,225, which makes it more expensive even than the
iPhone X
. What do you get in exchange? For starters, there's the glossy black finish and the vertical stripe at the back, along with the Porsche Design branding. Cosmetic software tweaks are also in place, and you get a fancy leather case in the set. But at a hardware level, the Porsche Design Mate 10 is identical to the Mate 10 Pro, save for the fact that it has twice the storage (256 gigs) built in.
All in all, perhaps there are wiser ways to spend $1,200, but if the Porsche Design Huawei Mate 10 tickles your fancy, you'll be able to get one through Amazon, Best Buy, or Microsoft, as well as at Porsche Design Stores throughout the US. The phone will become available on February 18, along with the Mate 10 Pro.