How to use an Android smartphone as a PC wireless keyboard and mouse
12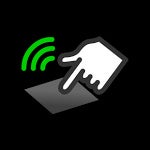 Earlier this year,
we introduced you to TeamViewer
– an awesome app used for controlling a computer remotely, even over the internet. In a nutshell, this handy tool displays the PC or Mac's desktop right on your smartphone's screen. However, that kind of setup is a bit of an overkill in some instances. For example, let's say that you've connected your laptop to an HDTV, enjoying some YouTube videos on the big screen. But at the same time, you don't happen to own a wireless keyboard or mouse, and getting off the couch in order to change what's playing is anything but convenient.
That's just a single example of a situation, in which a very useful app called RemoteDroid could be extremely useful. Basically, it turns your Android smartphone into a wireless touchpad and keyboard that connects to a computer over Wi-Fi. In this step-by-step how-to guide, we'll show you how it works.