How to port the brand new Galaxy S6 S Health app to your Note 4 or S5
3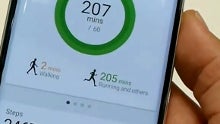 There is little doubt left that wearable technology, sooner rather than later, will become an essential part of keeping tabs on our health. One needn't have a crystal ball to see that that's where things are headed, and, given enough will on the part of manufacturers, it seems pretty certain that those wearables will be tightly integrated with our smartphones.
Indeed, companies like Samsung have already begun preparing for this expected new age of health and fitness tracking, and its S Health suite has been going through an improvement after improvement. S Health can now track your heart rate, your blood oxygen saturation, calories consumed and burned, and many, many more.
With the
Galaxy S6
and
S6 edge
, which also brought forward a new version of Samsung's TouchWiz, we now have an even more refined version of that same S Health suite. Sure, this time around we're talking mostly about a visual refresh, so if you want to install the new S Health app from the Galaxy S6 on your trusty Note 4, here's what you need to do:
Download the Galaxy S6 S Health app for Lollipop, ready to be slapped on your TouchWiz-ed handset (proved working on the Note 4);


Back up and replace your current S Health app, located in priv-app/S Health;


Change the name of the new file to SHealth3_5.apk, and set its permissions to rw--r--r. Reboot, just in case.
That's all, folks, enjoy your new S Health functionality from the Galaxy S6, ported to your Lollipop-ed Galaxy flagship, chiefly the Note 4, but first check out what is expecting you beforehand in our hands-on video below.