How often do you use 3D Touch on your iPhone 6s or 6s Plus?
87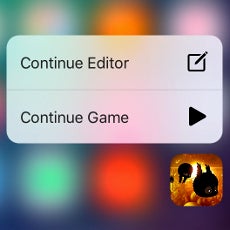 Huawei might have been first to announce a phone with
Force Touch
screen tech, but the
Mate S
version in question is yet to hit shelves, while Apple opened the pressure-sensitive floodgates with the
iPhone 6s
and
6s Plus
, equipping them with its own take, aptly named
3D Touch
. Unlike the
Force Touch tech on the Apple Watch
, the 3D Touch screen functionality of the new iPhones can distinguish between light tap, and a medium or harder press, allowing for inventive new ways to interact with your apps and games.
The "Peek" option can preview pictures in the gallery with a medium touch, for example, while pressing harder will give you the "Pop" options, entering the picture itself in full screen mode. We already
previewed a set of popular apps
that have been updated with 3D Touch support, as well as
some unique ways
that the pressure-sensitive display of the new iPhones let you interact with them.
It's all about actual usage, however, or an added feature can quickly turn into a gimmick that is there for the feature's sake, that is why we wanted to ask you how often do you use 3D Touch on your new
iPhone 6s
and 6s Plus. Sometimes, always, just to show it off to friends and relatives? Tell us in the poll below, and sound off about 3D Touch in the comments.