Apple is looking into bringing the Apple Watch's Force Touch feature and 3D gestures to the next iPhone
25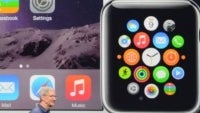 If you are in Apple's infinite news loop, you surely know the Apple Watch has a pressure-sensitive touch screen. The so-called "flexible retina display" allows for a "press and hold" mechanic, as well as other tactile shortcuts - can the Apple Watch become the first watch to support double-click? Why not! But that's not the point.
The point is that Apple is toying around with a new technology that's not on the mobile market, and its eponymous wearable is only one among other products that will explore it. What other products? Well, what else has Apple' written on it and a touchscreen ripe for experiments? The iPhone, of course!
According to a report from Taiwan, Apple is looking to turn the watch's Force Touch technology into a 3D pressure sensor that could make it into the next iPhone. It is said that US-based Avago Technologies will become a sole component supplier for the new feature. Previously, Avago worked on the Nintendo Wii's gesture sensing technology, which played out quite well for the console!
The source says that Apple is considering this "3D Touch" technology for the "iPhone 6S", but Cupertino is known for introducing the latest risky technology to its products only when it's 100% sure that A) its time has come and B) it makes business sense. So we don't really expect to see Tim Cook showing iOS's new 3D gesture controls this September, although there's always room for surprises!