How big it really is: Nokia Lumia 1020 size comparison
40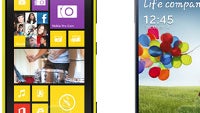 The
Nokia Lumia 1020
is an amazingly compact device when you think about the fact that it actually features a 41-megapixel camera with its sensor almost the size of the one in a Nikon 1 compact camera.
But
how big it really is
and how does it fare against its biggest rivals in the smartphone field? The Samsung Galaxy S4, HTC One, Sony Xperia Z and Apple iPhone 5 have all gone for extremely slim, elegant bodies.
The iPhone 5 is the absolute champ with a razor slim 7.6mm body, but the Galaxy S4 and Xperia Z are not far behind measuring 7.9mm in thickness. The HTC One is the thickest one of the bunch with a waistline of 9.3mm.
So how does the Lumia 1020 fare against them? Well, understandably the Lumia 1020 is the thickest of all 2013 flagships. Good news is it's only slightly larger than the rest. It measures 10.4mm and weighs a fairly average 158 grams. For such a drastic difference that comes with its 41-megapixel camera, that really seems like an
engineering wonder
.
Update:
We had to make one important correction in our size comparison. The Lumia 1020 measures 10.4mm on the side, but the camera protrudes and the hump on the back is larger, reaching nearly 14mm. On the images below, in side view, you'd only see the body of the Lumia 1020 sans the camera module, take into account that in reality the device has a noticeable hump on the back.