Here are the countries where the Apple iPhone SE is selling well
27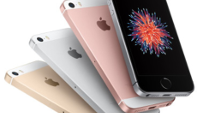 Localytics' latest adoption charts for the 4-inch
Apple iPhone SE
reveals that the new 4-inch iPhone has been well received in European markets like the U.K. and France where the phone's adoption rate hit 1%. That is the same adoption rate for the device in Canada and Hong Kong. At .4%, the U.S. is taking in the iPhone SE at the same pace as the world average.
The data shows a lower adoption rate for the iPhone SE when compared to the Apple iPhone 6 series, the Apple iPhone 6s series, the
Apple iPhone 5s
and
Apple iPhone 5c
. Some theorize that this is due to the nature of the beast; the iPhone SE is a phone that one keeps in the recesses of his or her mind as a replacement for some down the road event like an upgrade or a broken handset. That is in opposition to the other iPhone models which were aimed at consumers looking to buy a new phone
now
, or those who had to have the latest iPhone at that moment.
To read the specs of the iPhone SE is to understand more clearly what this device is all about. Despite the 4-inch screen, it is powered by the same A9 chipset that drives the
Apple iPhone 6s
and
Apple iPhone 6s Plus
. It also has the same 12MP rear snapper found on the iPhone 6s, and even includes Live Photos despite the lack of 3D Touch. The Touch ID sensor is from the previous generation, which makes it a tad slower. And with support for NFC and Apple Pay, this is the perfect phone for those who have been sitting with an older 4-inch model and want to upgrade the hardware.
There are a ton of iPhone users who never upgraded to the larger screen of the
Apple iPhone 6
or Apple iPhone 6s. Now, these holdouts have the opportunity to keep the smaller screen they love without missing out on many of the hardware changes. Of course, this ends in September when the
Apple iPhone 7
comes to market with the A10 chip, possibly a new modem supplier, and other hardware upgrades. As such, we'd expect to see the iPhone SE receive a nice price cut when the next iteration of the iPhone is released.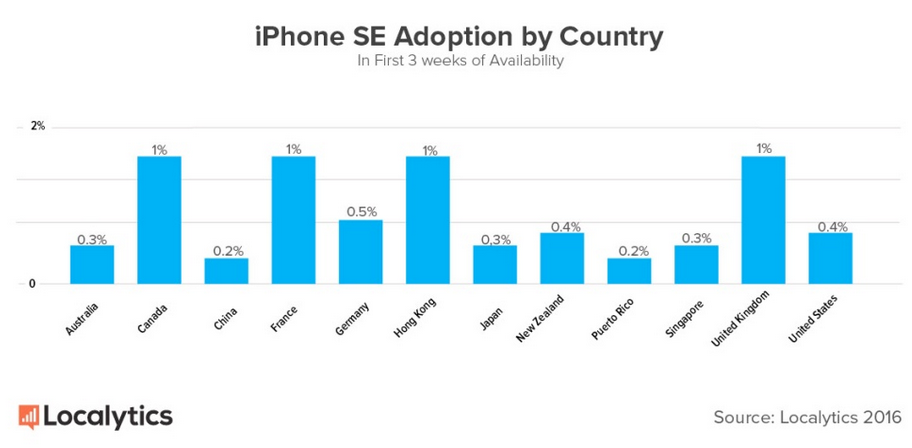 The Apple iPhone SE has found a home in the U.K., France, Hong Kong and Canada
source:
Localytics
via
Forbes
Recommended Stories