HTC's Wang teases "Big technological breakthrough" for VR to be revealed at CES
18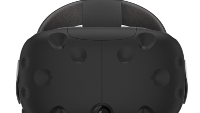 HTC CEO Cher Wang made a huge announcement today at the company's Vive Unbound developers forum in Beijing, that has VR fans eagerly awaiting CES (which begins January 6th and runs through January 9th). HTC's co-founder announced that two-weeks ago, HTC and Valve made "a very, very big technological breakthrough" with the HTC Vive VR headset. Valve is HTC's partner on the project.
As a result of this new breakthrough, HTC has decided to 86 the old product, and will ship the new one instead. This will result in the company missing the original shipping date. "We shouldn't make our users swap their systems later just so we could meet the December shipping date," Wang said.
Whatever breakthrough HTC is going to announce is going to take a great system and make it even better. When we had a chance to check out the Vive back in March,
we found it to be "awesome."
Pictures taken from the Vive developers site allegedly reveal the new look of the device, and show that the headset no longer has the HTC logo in front. The sensors are now hidden from plain sight, and the overall look is smoother. The controllers have also gone through a bit of a redesign.



This isn't the first time that Wang has excited the
HTC faithful this year. Back in June, the executive told a group of HTC investors that
the company was preparing a new "Hero" device
. While everyone expected a hot new flagship model, the company released the mid-range
HTC One A9
, hardly the hero that the company's fans were hoping for.
Let's hope that this time Wang's announcement of a big technological breakthrough is right on.
source:
TechRadar