HTC sends out invites for a November 2 event, U11 Plus incoming?
13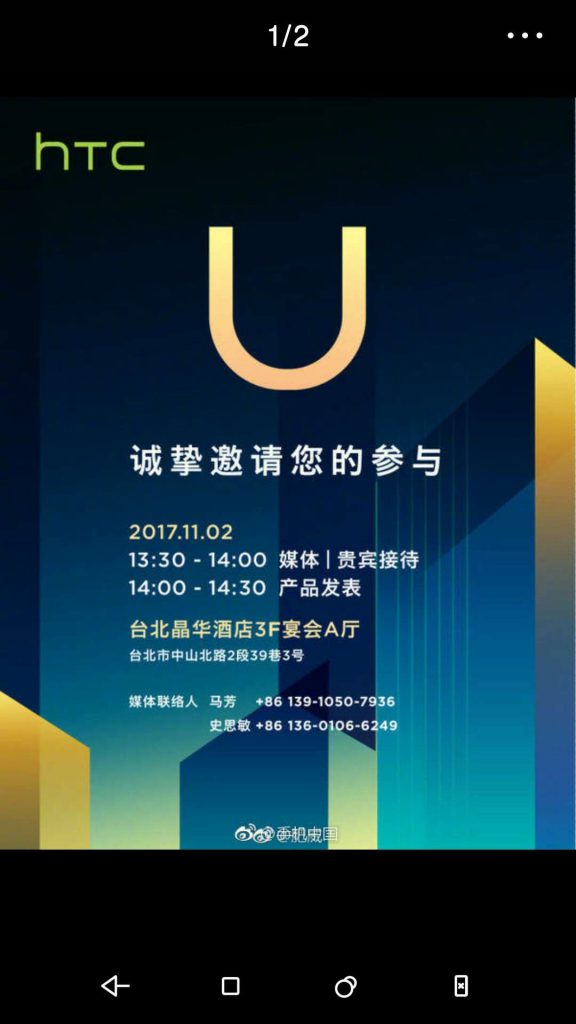 Well, well, well, it looks like all the rumors that HTC hasn't given up on issuing flagship smartphones even after
Google acquired its "Made by HTC' Pixel-crafting unit
, will turn out tobe true. CEO Cher Wang tipped a while ago that HTC will have some impressive phones to show in the fall season, and it is indeed now sending out invites for a November 2 event over in the home turf of Taipei, with the enigmatic "U" letter featuring prominently.
The talk of the tape is that HTC will be jumping on the 18:9 screen aspect bandwagon with an
U11 Plus
handset of its own. Given how great we found the single camera of the U11 and its battery life to be in our review, we can only look forward to seeing what HTC has done with the rest of the specs and design in a newer phone. The
U11 Plus is expected to come equipped
with a powered Qualcomm Snapdragon 835 processor, a 12-megapixel rear camera, a secondary 8-megapixel selfie snapper, as well as either 64GB or 128GB internal memory.
A 6" Quad HD display should complement the phone's high-end specs. It's yet unclear whether or not the HTC U11 Plus will come with Android 8.0 Oreo on board, but the hour and place of the announcement are known, so we'll tune in come November 2nd to see
HTC's first bezel-less efforts
.