HTC U11+ Review
41
The
HTC U11+
is one of the lesser-known high-end Android phones out there. It is not officially sold in the United States, and it's global availability seems limited, yet still, this is the top HTC phone currently and it marks the company's first foray into edge-to-edge screens.
Equipped with the top Snapdragon 835 chip and the clean HTC Sense interface, the U11+ comes with the promise of speed. It also has the great camera of the HTC U11 with a few extras on top, and BoomSound speakers that want to revive memories of once-great HTC phones.
But is it worth getting one? I've spent the past few days with the U11+ trying to figure it all out.
In the box:
Phone
User manual
Wall charger
USB-C cable
In-ear headphones (black, USB-C connection)
USB-C to 3.5mm audio adapter
See-through silicon case
SIM card ejector tool
Design
Shiny and attractive, but an absolute fingerprint magnet, the HTC U11+ is a design contradiction.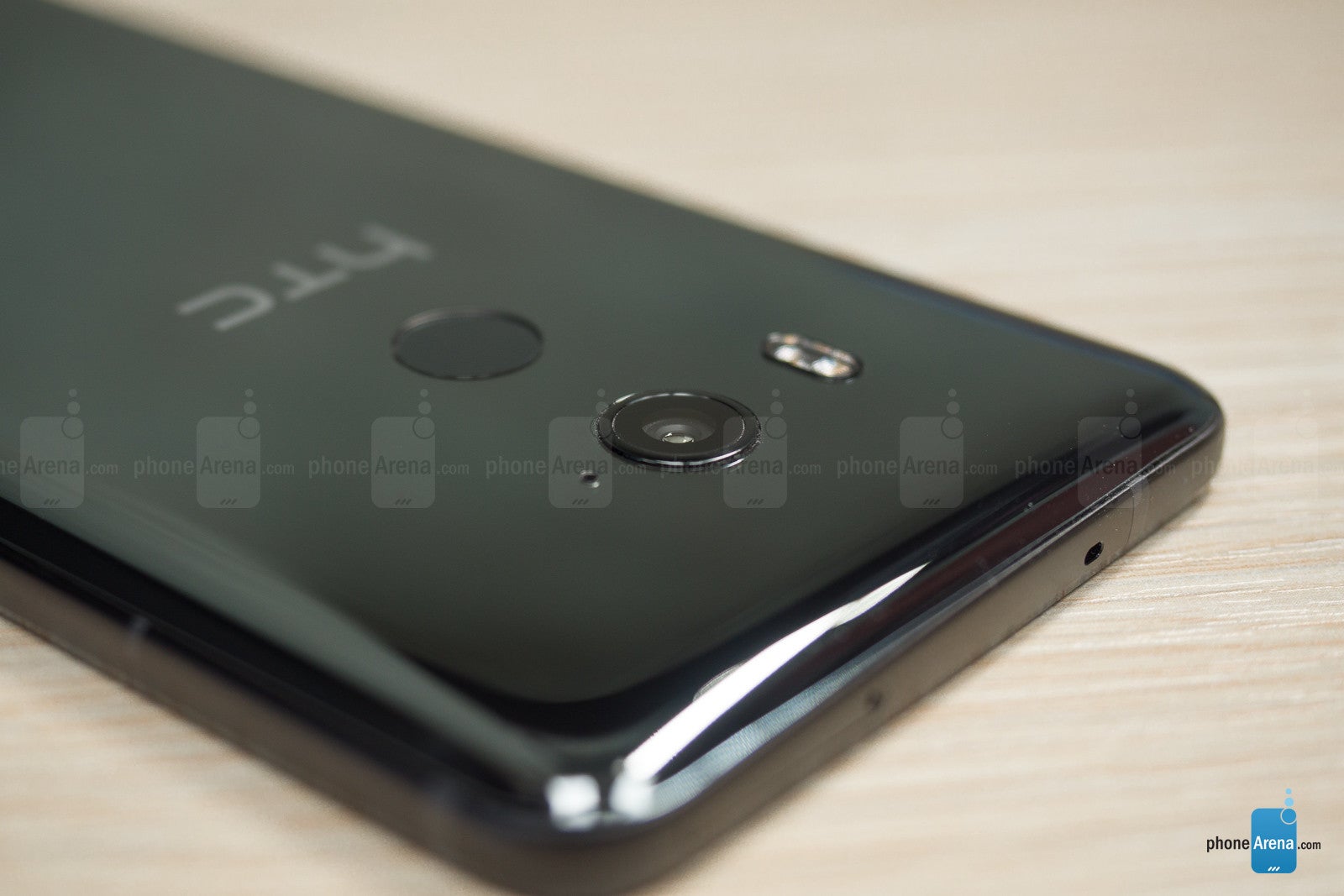 Phone design is mostly about two things that are often in conflict: great looks and practicality.
The HTC U11+ is a phone that puts looks first and practicality second. Attractive and visually outstanding, it is made of glass and looks as shiny as they get. Unfortunately, the very moment you pick the U11+ up, its pristinely clean glass back gets smudged with fingerprints. Now you know why HTC includes a cleaning cloth in the box.
There are two versions of this phone. Both are black, but one is really unique: it has a see-through back that allows you to see the innards of the phone. A geek's dream? Yes, but one that is hard to get as in some markets you need to wait for weeks for this elusive version to ship. We did not get a chance to review that version and have the regular, non-translucent model instead. It still looks good, but lacks that cool visual effect.
Looks aside, the phone feels big. It isn't the biggest phone in its size category, but it isn't the smallest, slimmest, or lightest either, presumably because of the hefty battery packed inside it. That's something you'll have to be willing to accept if you're eyeing the HTC U11+.
The phone is also quite slippery, so if you use it without a case, be careful not to place it on angled surfaces as it may slip and fall. When you hold it in the hand, though, it has a better grip than many metal phones and will not slip out that easily.
So what else is there? On the front, you have the 2:1 display, the front camera and earpiece, and nothing else. All buttons are on the right side. We like the way the power key is ridged, so we can very easily find and press it: a nice touch for such a commonly used button.
On the back you have a single camera that bulges out very slightly, and below it – a round fingerprint scanner. On the bottom we have a USB-C port and the loudspeaker.
We make no mention of a 3.5mm headphone jack simply because HTC has decided to skip it. Thankfully, there is a USB-C to 3.5mm audio dongle included in the box, in case you need to connect to non-wireless headphones or stereo.
The great thing about the HTC U11+ is that it is water-resistant with an IP68 rating, meaning that it will survive drops in water up to 5 feet deep for as long as 30 minutes. Summer pool parties, here we come!
Fingerprint scanner
The fingerprint scanner on the HTC U11+ is placed on the back of the phone, and while it is not at a hard-to-reach place as the awkward Galaxy S8/Note 8 fingerprint reader, it is still a bit less convenient than a fingerprint scanner on the front. You have to actually pick up the phone to unlock it and see your notifications.
The fingerprint scanner works reliably, but it is a bit on the slow side, especially when compared to its rivals.
We also noticed that every time you use the fingerprint scanner, there is something strange happening. You can see the lockscreen for a split second before the phone unlocks. This happens for such a short time that it almost seems like a bug: it all happens too fast for the user to be able to actually make any use of the lockscreen, and then, why show the lockscreen in the first place?
Display
Not quite bezel-less, the U11+ screen is sharp and has nice colors, but is not bright enough and it's hard to see out on the street.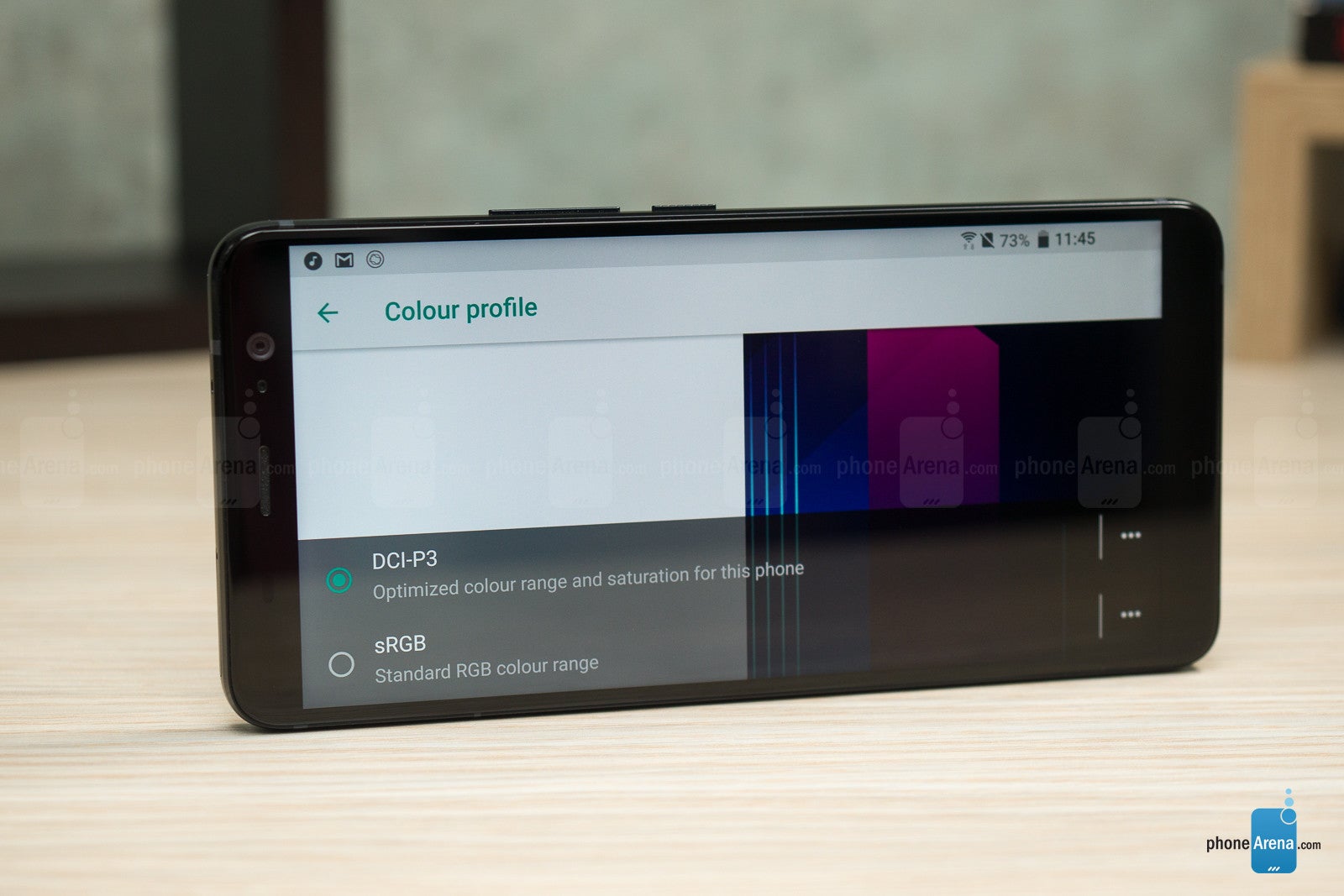 The U11+ comes with a 6-inch LCD screen with a plenty sharp 1440 x 2880 pixel (Quad HD+) resolution. Technically, this is the first "edge-to-edge", 2:1 screen in an HTC phone, but realistically, you still have plenty of bezel, and this phone does not quite feel "bezel-less" like the Galaxy S8/Note 8, the iPhone X, or the Essential Phone. The screen-to-body ratio on this U11+ is 78%, while the Galaxy series and others have the screen taking up nearly 85% of the front: a big difference.
The screen itself has two color options: sRGB and DCI-P3 (the second one enabled by default). To choose between the two go into Settings > Display & Gestures > Advanced > Color Profile. The DCI-P3 mode is the one with more lively colors that most users will prefer, while sRGB is more toned down. A nice touch is that when you tap on each of these options, you have a toggle to control whether whites look colder or warmer (a color temperature slider, in other words). Colors are generally well balanced, and while they lack the contrast and vivid look of an OLED screen, they are not bad either.
What is bad, though, is the display on our particular U11+ unit: it had very noticeable difference in the backlight intensity, as if the screen was almost divided in two, with a brighter bottom half and a darker top half. This might be an isolated issue with our unit, or it may be widespread, so be warned.
We are also disappointed with the brightness and outdoor visibility: the screen is reflective and not bright enough, making it hard to see it on a sunny day out on the street.
The U11+ also has an always-on display feature that shows the time and missed notifications, but it is very dim and hard to see. It might just be easier to turn the screen on rather than squinting to see the dim letters.
Display measurements and quality
Interface and Functionality
HTC Sense is rough around the edges, but the squeeze-y Edge Sense works very well.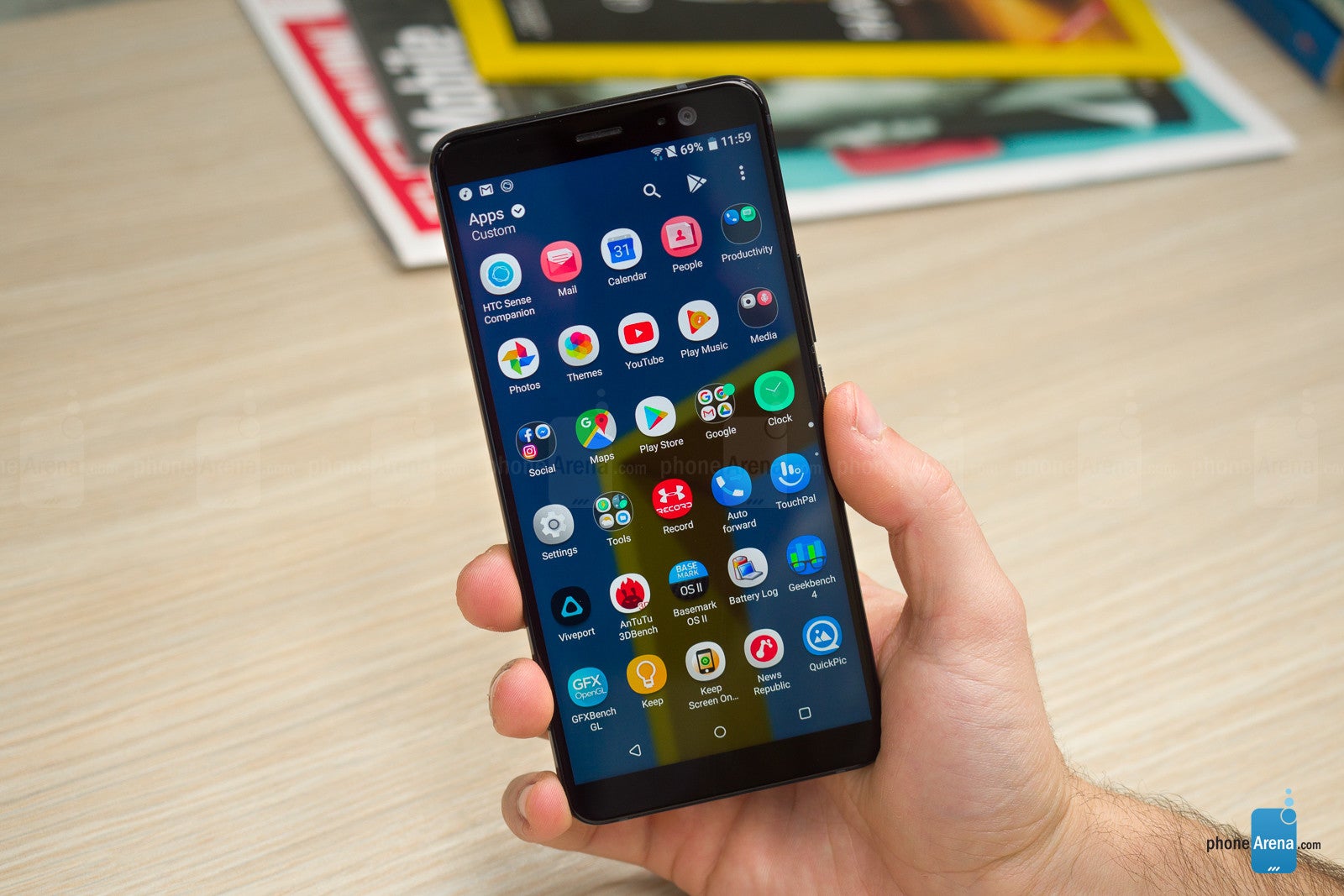 Let's start with the good news: the HTC U11+ runs on the modern Android 8.0 Oreo version of Google's operating system, so you do not need to wait long weeks for this particular update.
What could be better, though, is the HTC Sense user interface.
The thing is that Sense on the U11+ looks outdated. The old-school HTC fonts and design style contrast with material design in a strange and incoherent way. Many apps look the same way as they did five years ago, in HTC's hayday. You can live with this interface, but visually it definitely needs a refresh.
In the daily grind, HTC Sense feels fast and runs mostly smoothly. The curious thing about HTC Sense is that it almost completely lacks animations -- that one element acting as the visual connection when you switch between screens. To be precise, we should say that the animations that usually happen when you start an app simply happen at a much faster speed, so that it appears as if there are no animations. This is obviously done with speed in mind, but makes the interface feel less fluid and a bit… jittery, for a lack of a better word.
Otherwise, there are some cool things in Sense: the customization section (which annoyingly requires an HTC account registration) has some very cute-looking themes. On the lockscreen, HTC shows the time for sunset and sunrise, which is a nice touch. If you are looking for advanced features available on other phones, though, you are not likely to find them here. Things like dual apps that allow you to run two social network accounts on one phone, hiding apps and advanced security features are not present. Instead, HTC just uses all Google apps for everything but basic functions like the dialer and messages.
The Edge Sense feature is here too and works very well. By default, slightly squeezing the phone will launch the camera, but you can change this and have it start the Google Assistant or any other app you like.
HTC also has the "Sense Companion": a kind of a smart assistant that is supposed to give you relevant information without you asking. In reality, it is mostly useless, and the things it does are just ordinary and unremarkable: it can tell the weather and count steps, for example, but many apps do these things better.
Processor, Performance and Memory
Snapdragon 835 power.
The U11+ is powered by the Snapdragon 835, the same chip as on virtually every Android flagship these days, and performance is mostly good.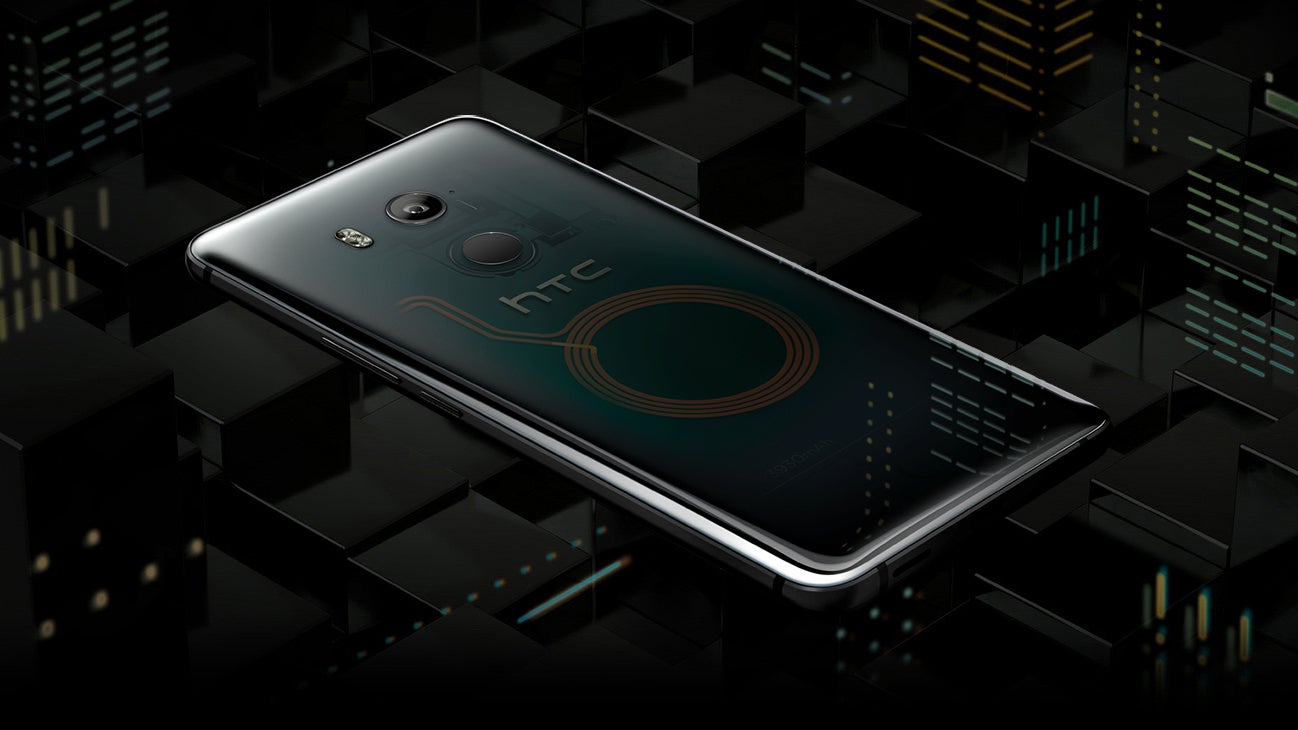 With the lack of animations in HTC Sense, the phone jumps through tasks with ease and reacts to touch instantly, but there is a bit of a jitteriness to the experience that is hard to describe.
The phone does good with games and more intense tasks, though, and you can see that it is among our top benchmark performers.
We welcome HTC's decision to include 128GB of on-board storage with the U11+. In this era of photographing and videographing everything, it's easier than ever to run out of storage, but 128GB feels like a much better amount of storage for a flagship-class device than the 64GB you get with others these days.
You can also use the hybrid card slot on the U11+ to add more storage via a microSD card.
Internet and Connectivity
Disclaimer:

The HTC U11+ is not officially sold in the United States and may not be fully compatible with US 4G LTE bands. You can find unlocked international U11+ units on Amazon, but make sure to check with your carrier to see if necessary LTE bands are supported.
The U11+ supports a lot of 4G LTE bands that will ensure the phone works on LTE in many, but not all markets. Most European and many Asian markets are supported, but if you have any doubts, it's always best to call your carrier and see if the bands are compatible.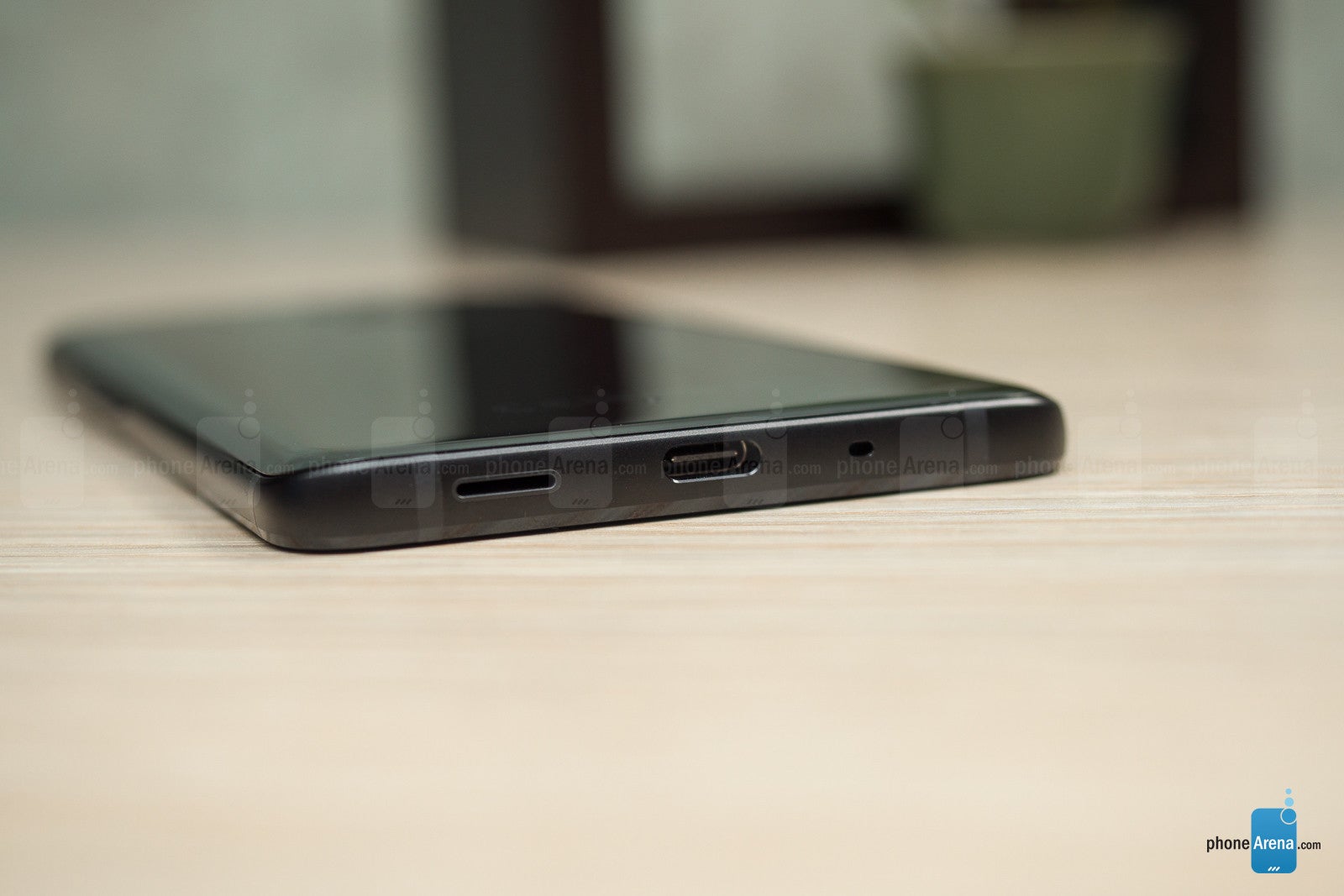 Below, you will find the full list of LTE bands supported on the U11+:
FDD LTE Bands: 1, 3, 4, 5, 7, 8, 12, 17, 20, 28, 32
TDD LTE Bands 38, 39, 40, 41
The phone also has a hybrid SIM card slot, which means that you have one main SIM slot and a secondary slot that can be used with either a second SIM card OR a microSD card, but not both.
Other connectivity options here include GPS, dual-channel Wi-Fi and Bluetooth 5.0, as well as support for NFC.
Camera
An excellent camera all around.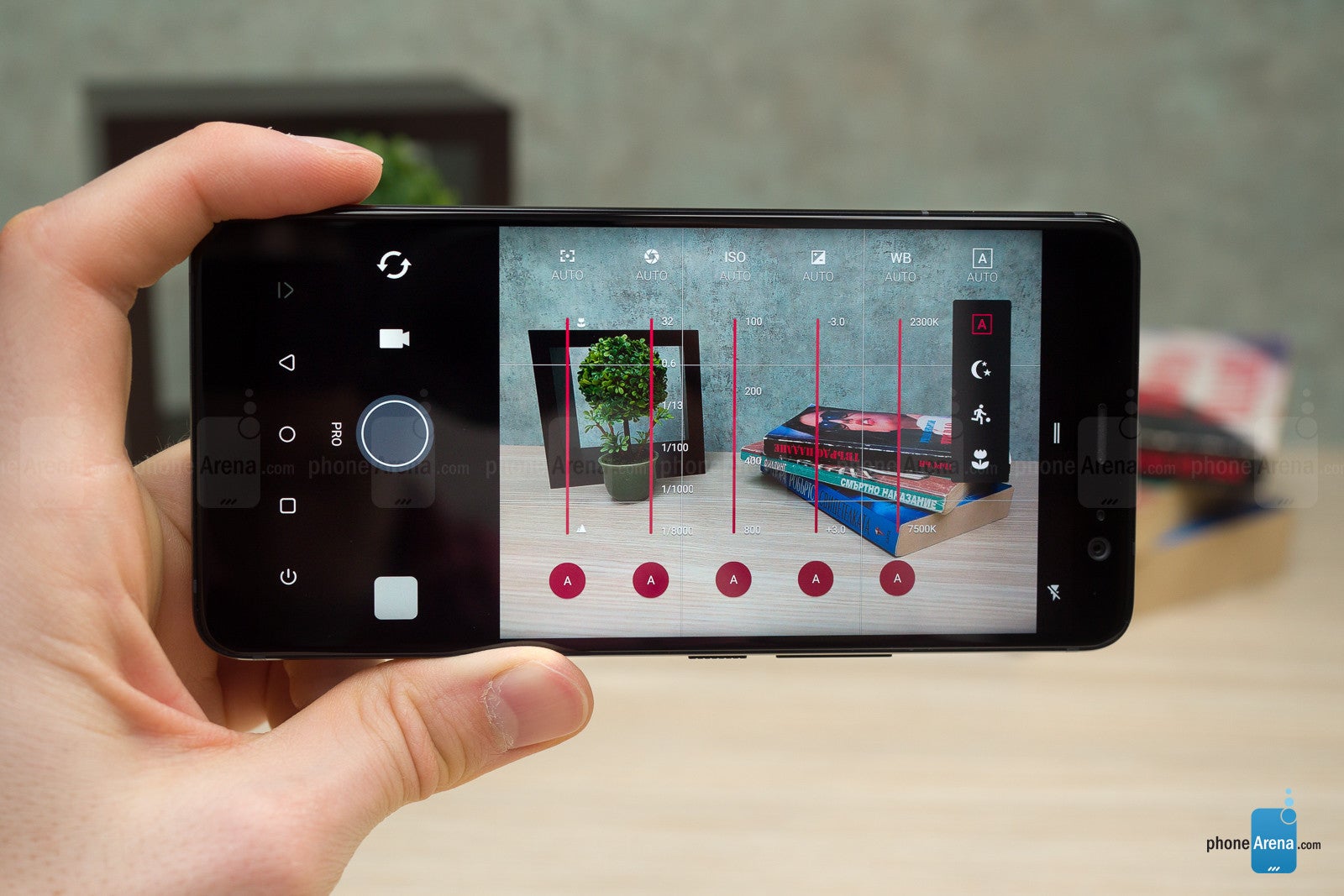 The HTC U11+ features a single 12-megapixel camera on the back, identical with the excellent one on the HTC U11, and no, there are no fancy gimmicks like portrait mode here.
First, let's take a look at the camera app. You can double click the power button on the side to quickly start it or squeeze the phone from any screen instead (when you are in the app, squeezing the phone also takes a picture). Both shortcuts are very handy and work well. The other shortcut you should know about is that flicking the phone twice will switch between the rear and the front cameras.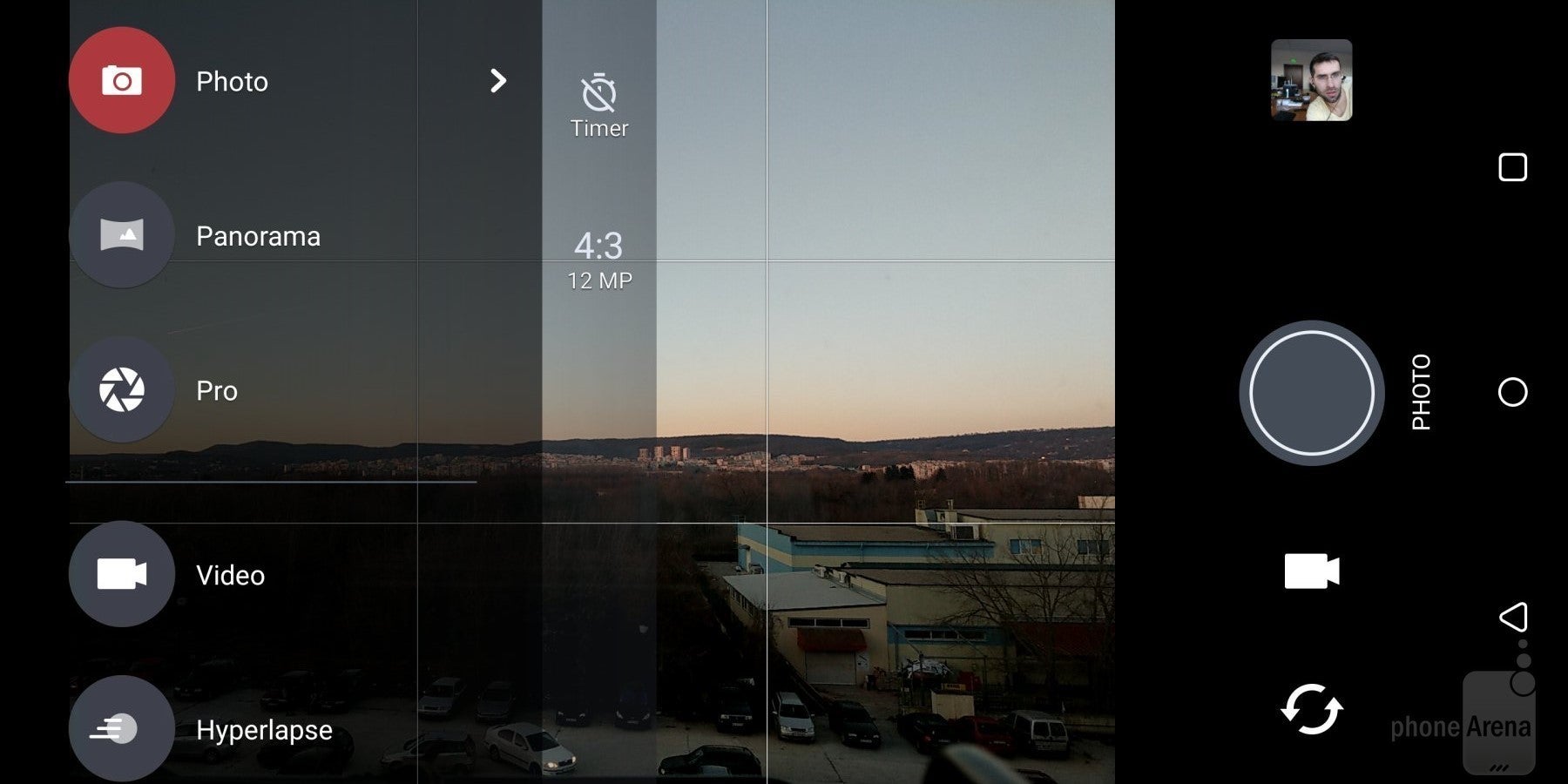 The camera app itself gets the job done without any bells and whistles. The interface looks very dated with a big list of shooting modes hiding between a drop-down menu on the top. You have a Pro mode with manual focus, ISO, white balance and all the rest. Other notable modes are panorama, hyperlapse and slow motion, as well as a wide "selfie panorama".
Image Quality
How do photos turn out?
Great, actually! The camera captures lively color, nails the exposure right, and photos look sharp and pleasing. It is also a fast camera that takes very little effort to use.
Of course, nothing in this world is quite perfect, and when you start examining details very closely, you will see some slight shortcomings. We took an iPhone 8 while we shot with the U11+ just to have a reference, and we noticed that the U11+ does not capture as much detail as the iPhone 8. This is especially noticeable towards the edges of the image, where you have blurry detail. Also, even on a sunny day, the HTC camera shoots with a lot of noise, especially noticeable in the sky.
Auto HDR is enabled by default on the camera, but does not quite work as often as on the Google Pixel 2 or iPhone 8, and as a result, you don't quite have the dynamic range of those phones. The U11 produces well-balanced images, but if you get more extremely light in the highlights, it will appear burned out in many cases.
Night-time photos
At night, the U11+ camera also captures fairly good images with nice color and sufficient sharpness. Photos turn out realistically dark, accurately conveying the night-time feeling, but details are still plenty sharp, which is quite impressive for a smartphone camera.
Selfies
When it comes to selfies, the phone does well, but lacks any flashy extras like portrait mode. The front camera is an 8-megapixel one and it shoots pictures with a lot of detail and clarity, without any excessive "beauty" effects. Skin tone is also accurately represented.
Video
On the video front, you can record up to 4K 30fps video on the U11+. You have a separate video mode in the camera app and this is nice to have as you get a preview of the slightly cropped 16:9 view in video.
4K footage turns out very sharp and detailed, focusing speeds are good enough, and overall, video performance is great.
With four built-in microphones, audio capture is also outstanding on the U11+. HTC touts its 3D sound feature that allows you to basically tap or zoom onto a subject in video and prioritize the sound that comes from it over other sounds in video.
Sound quality
You have a dual speaker system on this phone, but the sound isn't stereo. Instead, the speaker in the earpiece produces higher frequencies, and a bottom-firing second speaker acts as a woofer.
This is one of the most impressive sound systems on a phone. It is loud, and the quality is great, with a depth to the sound that is rarely heard from a phone's loudspeaker. It's great for listening to music on the go.
While there is no headphone jack on board, HTC does include its USonic noise-canceling earbuds in the box, and they work very well. The USonic buds connect via USB-C, and are indeed able to isolate a lot of that outdoor noise while providing good (slightly bass-y) sound.
Call Quality
We did not have any issues with sound quality on the U11+. Voices in the earpiece sound natural and more than loud enough, so you will have no problem carrying out a conversation even on a busier street. The phone also has some high quality microphones, so your callers will also be able to hear you loud and clear.
Battery life
You will get through a day, but not more.
The U11+ features a 3,930 mAh battery that is way bigger than the average for a phone of this size, and you'd expect some great results out of it. Unfortunately, you are in for a disappointment. The phone will get you through a day, but not much more, as stand-by time is quite bad, and the battery percentage quickly goes lower and lower as you go through the day. On our proprietary test, the U11+ scored 8 hours: lower than the average for an Android flagship.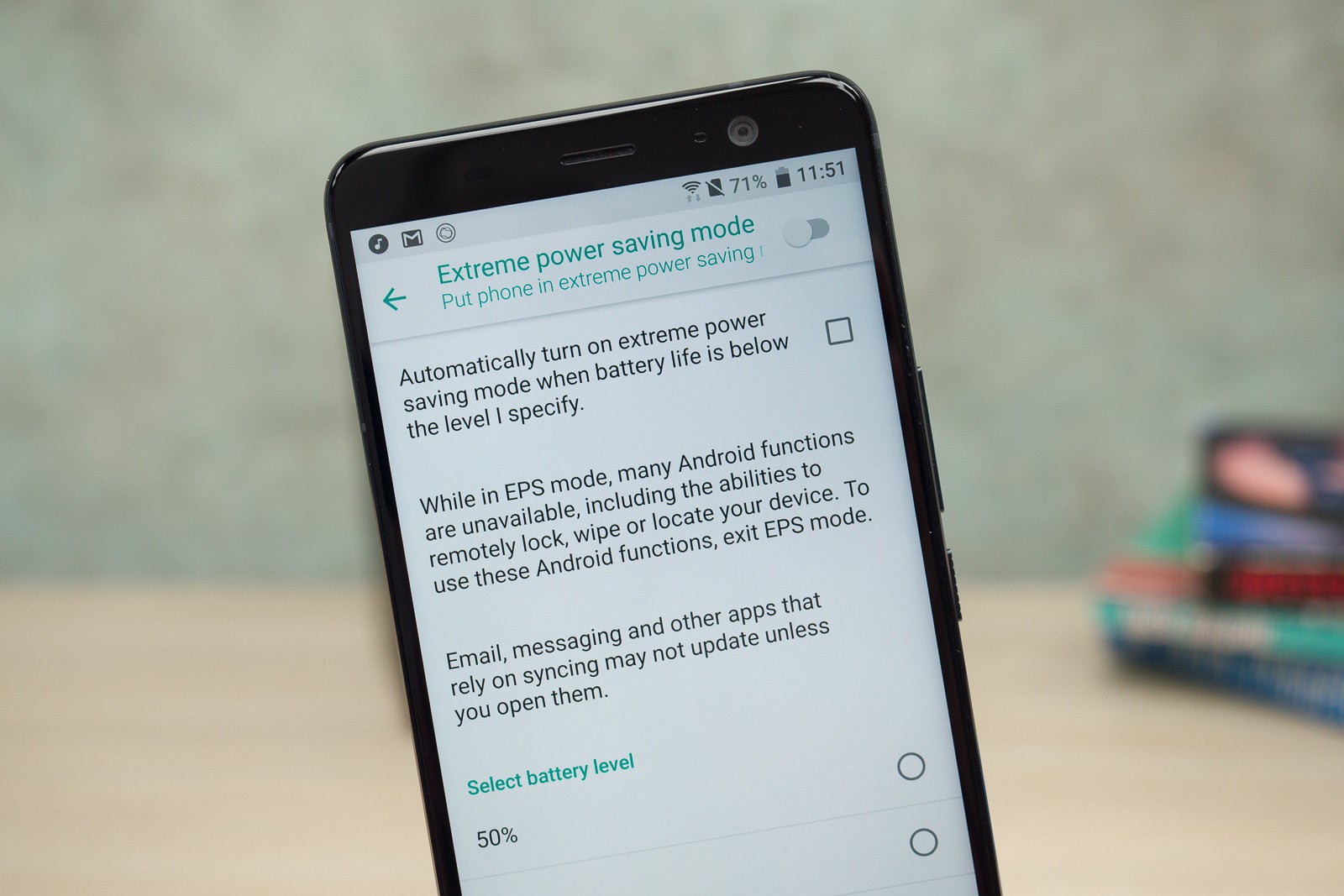 Another important aspect of the battery experience is charging time. You get a fast charger in the box, and it does its job fine. It takes 1 hour and 53 minutes to get the phone fully charged from zero. This is not quite on par with other fast-charging phones, but that's surely because the U11+ has a larger-capacity battery. Unfortunately, the phone does not support wireless charging.
Price and alternatives
The HTC U11+ is priced at €800, on par with some of the best phones out there like the Samsung Galaxy Note 8, Google Pixel 2 XL, LG V30, and so on.
Here are the prices of some of its main rivals:
Apple iPhone 7
/
8 Plus
: €770/€910
Google Pixel 2 XL
: €940 (can be found for €790 after €150 rebate)
Samsung Galaxy Note 8
: €840
Samsung Galaxy S8+
: €720
LG V30
: €845
Huawei Mate 10 Pro
: €790
Samsung's Note 8 is the obvious alternative. With a sleeker design and many more fancy features, including a cool S Pen stylus, it seems to offer a lot more value for the money.
The Pixel 2 XL comes with Google's unprecedented promise of 3 year of timely software updates, as well as with a buttery smooth performance and impressive camera: all features where it excels over HTC's phone.
Conclusion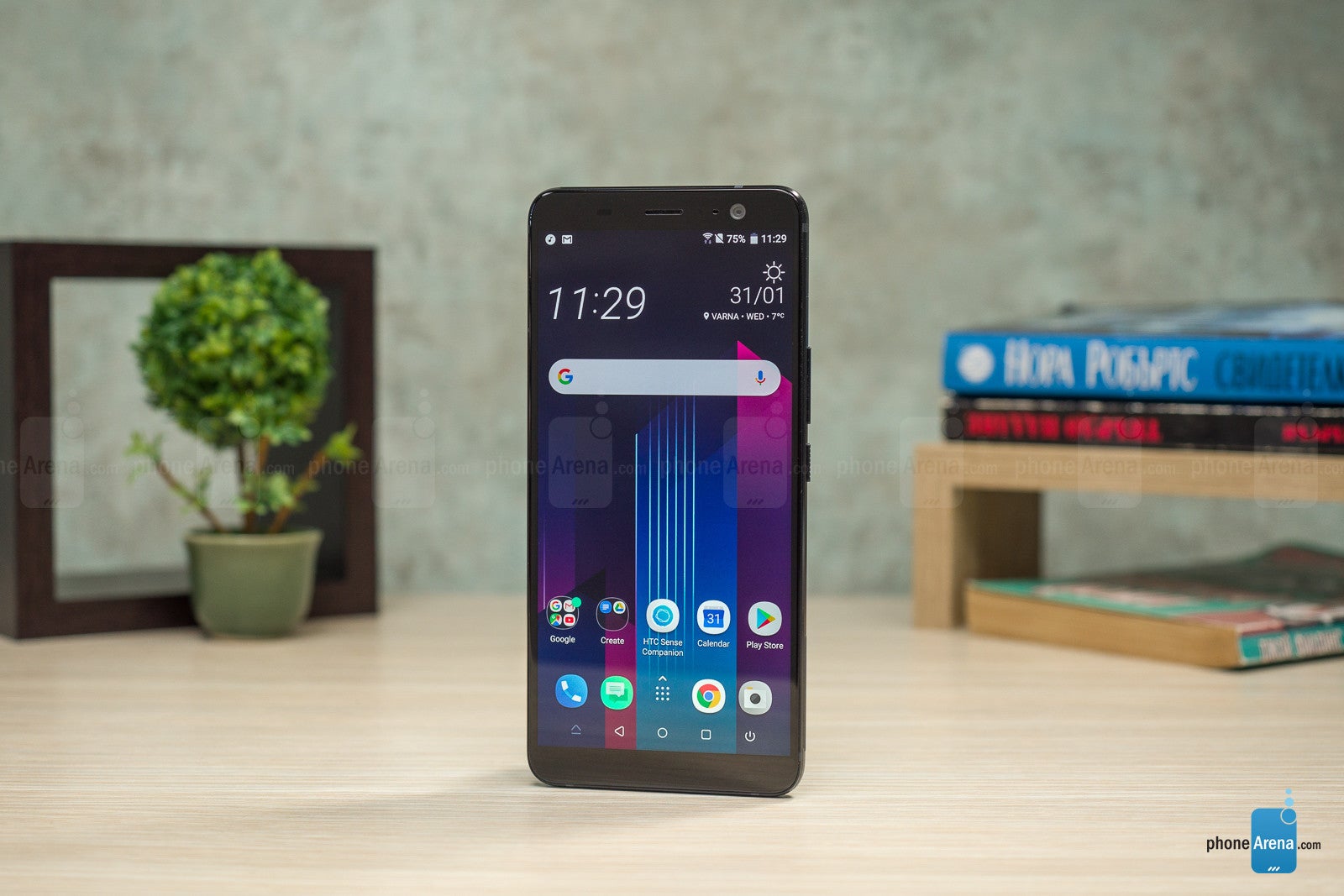 Summing it all up, the
HTC U11+
is a fast and powerful phone with great camera and sound quality, but one that comes at a high price.
The U11+ has all of the above esentials covered, but in many ways, it is behind the competition. It lacks Portrait Mode: a cool feature available in most flagships. The display is very dim and hard to see outdoors. Its HTC Sense interface looks stale and dated. And while it has a big battery, the actual battery life is just average.
In early 2018, it is also pricey, and there are many new exciting phones on the horizon. So yes, you could still buy the HTC U11+ and be happy with your purchase, but this phone is definitely not about cutting-edge innovation.