HTC reiterates Android 4.2.2 update coming to HTC One
27
A tweet sent Monday by carrier Three UK caused an uproar. In response to a question about the upcoming Android 4.2.2 update for the
HTC One
, the carrier responded that HTC had
pulled the release
with no new date set for distribution. As you can imagine, this set off a firestorm. Because the HTC One currently runs on Android 4.1.2, some users have already been suffering from an inferiority complex. The HTC device's number
one rival is the
Samsung Galaxy S4
which happens to come out of the box with Android 4.2.2 installed.
The bottom line is that HTC says that the
update is coming
, although it won't be coming tomorrow, or even the day after that. In fact, HTC One owners are probably just better off to know that Android 4.2.2 is coming and not think about it. And while owners of the Taiwan manufacturer's sexy new Android flagship model might think that life is not fair, consider that you still have those three great Jelly Bean features that we are always talking about. That's right, the smooth, silky responsiveness of Project Butter along with the timely information coming from Google Now, and the time saving actionable notifications.
If that doesn't make you feel better, think about all of those poor slobs who are locked into a contract with their Android handset running Gingerbread. Ah! We knew that would cheer you up.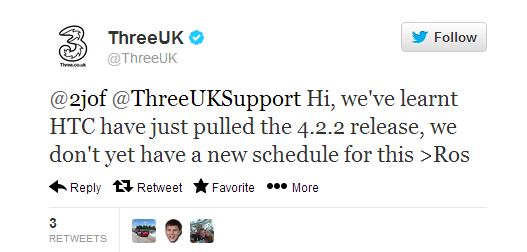 The tweet from ThreeUK that set off the uproar
source:
ThreeUK
,
Engadget
via
AndroidAuthority