HTC picks Tegra 2 for its Android tablet?
1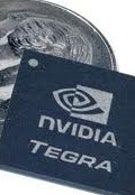 NVIDIA's Tegra 2 processor will apparently be powering HTC's upcoming Android tablet, according to a DigiTimes report. The dual-core processor has already been selected for use on some Froyo flavored tablets, but the Taiwan based manufacturer plans on using Android 3.0 for their tablet which is now due out in 2011. The report goes on to say that Pegatron will be building the device, which will be equipped with a 1280 x 720 display and be multi-touch enabled. It will also offer 2GB of memory, Wi-Fi, GPS and Bluetooth.
Both HTC and Motorola appear to have tablets ready to roll out, but the pair are waiting for Google to finish development of Android 3.0. It is also possible that that the Honeycomb build of Android will be the version optimized for tablets. Neither HTC or Pegatron would comment on the story.
For NVIDIA, grabbing the businesses from HTC would be another sign that the company is quickly becoming the platform to use for tablets because of the company's focus on the technology used for GPU chips. The inclusion of the Tegra 2 processor on Android flavored devices is expected to make for stronger multimedia performance than what is currently seen on the iPad.
source:
DigiTimes