HTC One max size comparison: how big it really is
48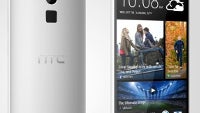 The
HTC One max has arrived
and it is exactly what we thought it would be - a large, 5.9" phablet with the aluminum construction and design we know from the HTC One, but also with some neat additions like a fingerprint reader on its back.
You've already heard about the spec story - the 5.9" 1080 x 1920-pixel screen, the Snapdragon 600 chip, the expandable storage and removable back cover. With all that, however, the big question remains: isn't it just too big? The HTC One max is indeed a large device. The 5.9" display does not have the super tiny bezels of some other devices, and it's just heavy weighing at nearly 0.46 pounds.
The HTC One max definitely looks large even when compared to its peer phablets, and it's very thick too. At nearly 10.3mm thick, the One max looks is bulkier than even larger handsets like the Xperia Z Ultra. And to better understand its size, you just have to look at the images below where we compare it against its most prominent competitors.
Against the flagships
In a company of peers