HTC Imagio gets video-previewed in detail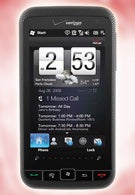 Verizon has
recently announced
the Windows Mobile 6.5-powered
HTC Imagio
and as we all know, this is going to be a rather powerful business- and multimedia-centric device. What we came across today is a quite detailed video preview that gives a good idea of what Verizon users may expect to find when they unbox their new phone later this month. Just to show how big the HTC Imagio is, the reviewer compares it to a
RIM BlackBerry Storm
. Then, she walks us through the main interface elements and as far as we can see, the Qualcomm 528MHz processor still does a decent job of running the software smoothly. Finally, the package content gets revealed, hinting at the handset's global roaming capabilities. We won't waste any more time in retelling the story. Check it out for yourselves in the video below and stay tuned for our review of the device soon!
HTC Imagio Specifications
Thank you, Patrick!
If you have some interesting info that you'd like to share with us, feel free to
Tip Us!