HP introduces ePrint service app for iOS; allows on the go printing for Apple iPhone users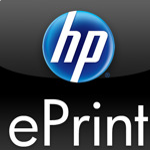 HP today has introduced the ePrint service application for iOS devices. With the app, available free from the App Store, those using the Apple iPhone can send their documents, emails, presentations and more to be printed at HP ePrint Mobile Print Locations across the globe, like at FedEx Office stores or the lobby of participating Hilton Hotels.
Bruce Dahlgren, senior vice president, Managed Enterprise Solutions, Imaging and Printing Group, HP said, "By 2014, 90 percent of global Fortune 1000 companies will implement cloud printing services for mobile personnel, showing what HP has known for years - mobility is not a trend, it's a way of life. We are committed to anticipating our customer needs and delivering innovative solutions like HP ePrint Enterprise for our enterprise customers that need simple, secure mobile access to printing."
Now that the app has been launched, Apple iPhone users are able to print to any networked enterprise printer. HP's ePrint Enterprise Administrative Server software makes sure that the information being printed stays within the company's network.
While on the go, iPhone users will be able to see a directory of potential print locations and then use the GPS on the handset to get directions to the closest HP ePrint Mobile Print Location. These locations include the 1,800 FedEx Office stores where smartphone printing was started last year for use on BlackBerry phones using the HP ePrint solution. Now, with the iOS app, the largest retail printing network can be accessed by iPhone users.
Brian Philips, president and ceo of FedEx Office said, "With these ePrint enhancements, iPhone users can now print documents directly from their devices to our stores using our FedEx Office Print & Go service. We are the only national print retailer to offer smartphone printing - making us the clear leader in the marketplace with our extensive portfolio of products and services."
source:
HP
via
Engadget