Groovy Nokia 8 ad features doughnuts, glowing roller skates, and Android Pay
2
HMD Global loves to show off the
Nokia 8
. The Finnish company has been doing a lot of promotional videos for the affordable flagship ever since its August debut, and the latest one focuses on
alt girls, house music, doughnuts, and glowing roller skates
the convenience of using
Android Pay
.
The clip is only 21 seconds long, but we have to admit that it does a pretty good job of displaying just how easy it is to make quick payments on the go. On the other hand, whoever wrote the video description must have had a hard day at work.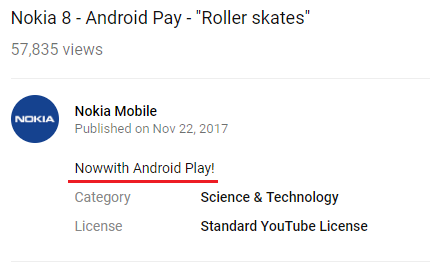 Ehh, what?
Unlocking your phone and tapping or placing it over a terminal is all that's needed to buy something nowadays, but sadly, the service isn't globally supported just yet. Android Pay is currently live in the United States, Canada, Brazil, UK, Ireland, Spain, Belgium, Poland, Czech Republic, Ukraine, Russia, Singapore, Hong Kong, Taiwan, Japan, Australia and New Zealand.
Do you like the ad? How about them cool roller skates? Let us know in the comments below!